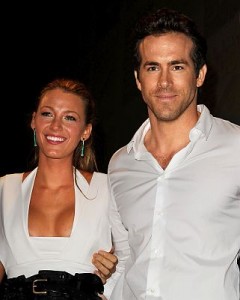 Gossip Girl star Blake Lively was recently at Comic-Con to promote her upcoming superhero flick, The Green Lantern with co-star Ryan Reynolds, however, it was her cleavage that overshadowed headlines rather than her part in the movie.
Reports are saying that although Lively sat down with her fellow co-stars including Reynolds and Peter Sarsgaard for a panel discussion, audience members weren't paying too much attention to what she was saying as her chest was a big distraction.
She continued to wow audiences as she explained that her on-screen chemistry with Reynolds, who is married to Scarlett Johansson, was fantastic, and that her character goes head to head with his. "She's only second to him. They're the [top] two pilots in the world. So she's also his rival, and so it creates a really interesting dynamic and a cool tension," she told MTV.com.