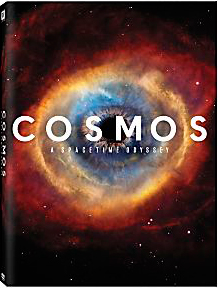 Cosmos: A Spacetime Odyssey, is a four disc set on Blu-ray with over two hours of extra footage. Astrophysicist Dr. Neil deGrasse Tyson hosts the 13-episode series. Known for making science and the world around us accessible and understandable to mainstream audiences, Dr. Tyson guides the viewer through the latest and greatest scientific discoveries both on Earth and throughout the universe. The episodes are visually stunning and use all the latest film technology, including  CGI, to draw viewers in and present a clearer understanding of the subject matter discussed.
Cosmos is a continuing chapter from the 1980 television series Cosmos: A Personal Voyage, which was hosted by Carl Sagan, an American astronomer, astrophysicist and cosmologist also known for making science palpable and accessible to the masses. Carl's widow Ann Druyan, who is the writer of the new Cosmos series, continues the vision of sharing information and possibilities in the scientific field with viewers. The series emphasizes scientific exploration and the relevance of science in modern day life.
The special features give the viewer a behind-the-scenes look at the creators and supporters of Cosmos: A Spacetime Odyssey, as well as illustrate the challenges and joys of the scientific field. Seth MacFarlane appears on the Blu-ray as a supporter and collaborator of the series, even participating in voice work during some of the animation sequences. Other voice talents include Patrick Stewart, Kirsten Dunst and Richard Gere.
Special Features:
Audio Commentary on Premiere Episode: Standing Up in the Milky Way with writer Ann Druyan, producer Mitchell Cannold, producer/director Brannon Braga, producer Jason Clark and animation producer Kara Vallow.
Celebrating Carl Sagan: A Selection From the Library of Congress Dedication is hosted by Seth MacFarlane, who speaks about the joys and conflicts of science in modern times.
Any Comic-Con fan will enjoy the Cosmos: A Spacetime Odyssey panel (introduction by Seth MacFarlane) and look at Neil deGrasse Tyson's time at Comic-Con in Cosmos: A Spacetime Odyssey at Comic-Con 2013.
Disc Four encourages the viewer to keep exploring the future possibilities of science with Cosmos: A Spacetime Odyssey – The Voyage Continues and an interactive Cosmic Calendar.
The Cosmos Blu-ray is a fascinating look at the current and future state of science and is perfect as an introduction and guide to those unfamiliar with the field. The visuals are captivating and host Dr. Tyson presents the material in an enjoyable and intelligent manner. ~Andrea Hodgins
Other home releases this week include:  The Grand Budapest Hotel, The LEGO Movie, Devil's Knot, Joe, House of Cards: Season 2 and Walk of Shame.