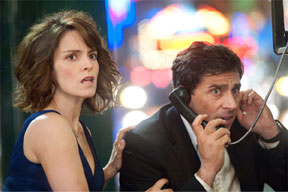 Final tallies show that Clash of the Titans earned $26.6 million in its second weekend at the North American box office, holding on to the top spot, with Date Night starring Steve Carell and Tina Fey not far behind at $25.2 million (all figures US). Tribute users rate the comedy at 4 stars (out of 5), with comments such as "This movie had us non stop laughing through out the whole show!" and "RIDICULOUS FUN! I loved all the random things that happened on their date! Especially the cab driver!"
In Canada, Clash of the Titans also held on to the top spot ($2.54 million) at the box office, with How to Train Your Dragon close behind ($2.22 million) and Date Night in third place ($2 million).
How to Train Your Dragon has one of the highest ratings seen on Tribute — 4.9 stars and $24.9 million in revenue, for a three-week total of $133.89 million.