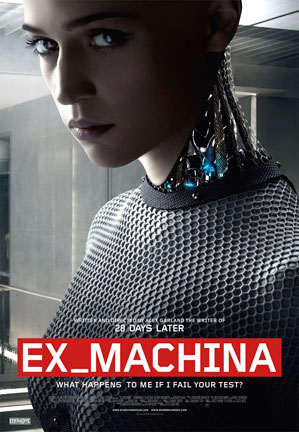 You can enter to win passes for two plus a download to get the soundtrack of the new movie, Ex Machina. Domhnall Gleeson stars in the movie as a programmer who is tasked with evaluating his company CEO's (Oscar Isaac) experiment in artificial intelligence (Alicia Vikander). What was supposed to be a routine check turns into much more as reality comes into question, as well as who is the one being tested—man or machine.
The movie releases in Toronto and Vancouver on April 24 and in Calgary, Edmonton, Winnipeg, Halifax, Victoria and Ottawa on May 8, 2015. If you live in any of these cities (or near enough to attend a movie in one of them) and would like a run of engagement pass for two (valid Monday to Thursday as long as the movie is showing) and a digital download of the soundtrack, let us know by commenting below to tell us which city you want to see it in.
Winners for Toronto, Vancouver and Edmonton: Steve Thorne, Bob Dack, Corinne Wegener-Pehrson, Caleb Chadwick, Dave Cleary, Liette Leclair, Alayne Langford, Angelene Ashawesega, Kevin Rambally, Sam Aspro, Marty November, Lyndie Lee, Kevin Castillo, Greg Leong, Louise Allen.
Winners for the other cities (Calgary, Winnipeg, Halifax, Victoria and Ottawa) will be chosen and contacted by Friday, May 1.
Watch the trailer below: