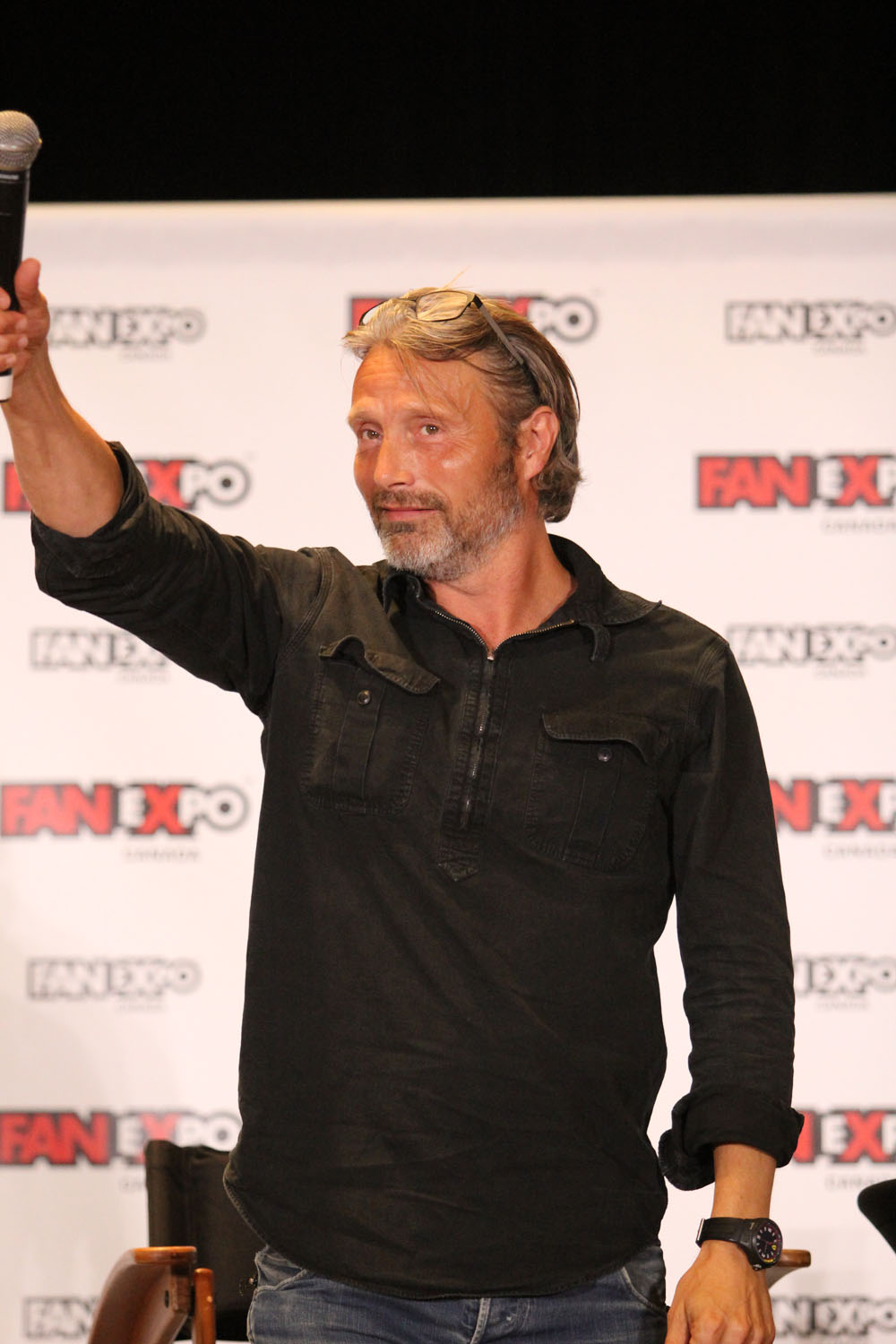 Fan Expo had its busiest day on Saturday, with panel after panel packed with adoring fans. They were not disappointed, as each star came on stage to loud applause and entertained everyone by answering questions about their respective films and shows.
Highlights of the day included a trio of stars from Star Trek Voyager, Ming Na Wen of Agents of SHIELD, Robin Lord Taylor from Gotham and Jason Momoa, Mike Tyson, Danny Trejo and Mads Mikkelsen. The last event of the night was a Harry Potter reunion with Rupert Grint, Tom Felton, and Oliver and James Phelps.
The cast of Star Trek: Voyager that beamed in for this event were Robert Picardo, who most may know as the holographic doctor, Jeri Ryan who played the former Borg drone – Seven of Nine – and Ethan Phillips, who, with lots of make-up would be recognized as Neelix. This cheerful group got along great on set, and are still friends – so much so that they felt like they were entertaining themselves as much as the audience.
The deepest, most serious question for the group was their opinion on pockets in the future, and how they got around not having them in their futuristic uniforms.
Jeri Ryan's costume was obviously very form fitting, and didn't leave much room to carry anything. Robert Picardo had a few stories of instances before takes, where he would have to hide a piece of paper in his sleeve, and one time, a pencil had to be quickly hidden, which then flew across the room with an arm gesture. There were lots of pranks on set, even within the confines of a serious Star Trek show, and most of them seemed to be directed at Tim Russ, who played Tuvok the Vulcan. Ethan Phillips recounted the times he would hide under Tim's bridge control panel and attempt to make him laugh during filming. Jeri Ryan's favorite moments of the show were the chances to explore her humanity. Many of those lessons and themes, along with the show itself, hold up to this day.
Danny Trejo has been acting since 1985, and has played many tough guys. He began by telling of his early life troubles with drugs and crime, but he has been clean for a long time now and works as a drug counselor to this day. He recounted how he got into acting, mostly by accident, in the film Runaway Train, which starred Jon Voight and Eric Roberts. He was paid $50 to be an extra on the film and was told to act like a convict, something he jokes he didn't have to try hard to do. Then he was offered $350 to train Eric Roberts to box, although he admits he would have done that for another $50. Then the director saw the tattoo on his chest, which he had done in prison, and decided to give him a larger role in the movie.
During his first few years in the film industry, he often played characters such as "Inmate #1" and that suited him just fine. Trejo's roles in Heat and Con Air were some of the most memorable he's had. Working with Robert DeNiro in Heat was a great experience, and the set of Con Air was akin to a tough guy competition, where each star was trying to out-do each other by showing off their ability to do push-ups and lift weights.
Danny's roles are usually violent, and in many cases, he ends up dying, but he made up for this in the first 12 minutes of Machete  where he kills about a dozen people, and then had to shoot love scenes with Jessica Alba and Amber Heard. His next projects include possible expansion of the Machete franchise, possibly in a TV show, or another feature film.
Agents of SHIELD star Ming Na Wen delighted the audience with her smile and personality – a stark contrast from her stone-faced character Melinda May on the show. Ming Na is talkative and emotional, while Melinda is quiet and reserved. Her career has spanned decades, starring as a doctor on ER, voicing the Disney character Mulan, and of course, her current role on the Marvel series Agents of SHIELD.
What else would Ming Na like to do? Appear in the Star Wars franchise of course! She claims to be a huge nerd, and appreciates the fans because of this, and works hard to please the fans. She has wanted to be an actor since third grade, when she played a bunny rabbit in a school play. Now, on her current show, she is known as "The Cavalry," and the reason for this has been a mystery until late in the second season. The reveal, she thinks, was done very well, and lived up to the hype and uncovered the trauma and PTSD that Melinda May had after the events in Bahrain. You can catch Melinda May and the rest of Coulson's team when Agents of SHIELD returns on September 29th.
Mads Mikkelson's career in television and films is extensive. Fans know him from playing the main antagonist in the James Bond film, Casino Royale, and more recently, as Hannibal Lecter in Hannibal. He knew that when he first started the show, they would be doing a different version of Hannibal and Mikkelson plays him in a way that has fans rooting for him.
Mads mentioned that the empathy for Hannibal comes from the writing which makes him into a charismatic character. He joked that he "plays him sexy" and that Canada is an extremely cold place to film a TV series. Mads will also be seen in the Star Wars film, Rogue One: A Star Wars Story, which he will begin filming next week. Ironically, he admitted he has never seen Star Wars.
Jason Momoa is not just an actor, but a director, writer and producer as well. He is best known for playing Khal Drogo in Game of Thrones and Ronon Dex in Stargate: Atlantis. He spoke of the uncomfortable scenes in Game of Thrones that he had to do with Emilia Clarke, and to get through them, he loved to make her laugh. The beard he sported for the part of Drogo in Game of Thrones is fake since he could not grow a beard that long. Replying to a fan's question on who should sit on the Iron Throne, he replied "Daenerys, with the Imp by her side and her dragons surrounding her."
Recently it was announced that Jason would be playing Aquaman, making his first appearance in the Superman vs Batman movie and then a solo movie in 2018. He said Batman was his favorite superhero and joked that he was playing Aquaman to put food on the table.
Mike Tyson came in from China where he was filming a movie with Steven Seagal. He didn't give many details about the film, but said they will definitely be fighting each other in it. He now considers himself an entertainer, rather than a fighter. He is still in good shape, but the exact shape he is in depends on who he's fighting.
Mike enjoys doing comedy roles nowadays, and has a cartoon being released soon that he says is going to be awesome. He's best known in recent years for his role in the Hangover franchise, and thinks that this new persona suits him and his new life following his retirement as a boxer. In the midst of his fighting career, he says he never dreamed of being the kind of character he is now. These days, Mike Tyson is still not someone you want to mess with, but he says spending time with his children and watching movies like Home and Frozen is what makes him happy. His personal favourite film is The Other Side of Midnight.
On the subject of MMA fights, Tyson said he didn't think he would do very well in this type of fight. He lamented that he had bad feet, and that the second someone stepped on his foot, he would likely tap out. So don't expect to see Tyson in the ring any time soon, but you will be able to see him in all kinds of film and television roles in the future.
Robin Lord Taylor has brought to life one of the creepiest and tormented versions of the notorious Batman villain The Penguin on the hit series Gotham. He is so happy to be able to put a new spin on this classic character. His main inspiration for his character was the comics, and he read many of them to bring his character to life. He is having a lot of fun on the set of Gotham and considers it a dream come true. He even demonstrated how to walk like the Penguin with a limp, by turning his right foot outwards and acting that there was a constant pain in his leg. His costume, makeup and hair all help him get into character.
When asked if there were plans to either fatten him up or give him a monocle to be more like the classic portrayal of the character, Robin said he did not know of any such plans, but that they may need to make a fat suit because he is such a skinny guy. He said to look forward to great tension between his character and that of Gordon in the next season coming this fall.
The main ticketed event of the night was the Harry Potter reunion with Oliver and James Phelps (George and Fred), Rupert Grint (Ron) and Tom Felton (Draco). All four actors were surprised at how big the fandom is and how it seems to be continuing to grow.
The four of them joked around and said they missed working together and would love to work on a film together again. Oliver and James said they didn't pretend to be each other's characters except once, when they switched places in one of the shots. When the switch was discovered, they had to reshoot the scene.
A fan asked what they would do if they had the Time Turner from the third film. Rupert replied that he would go back to the fourth film and rethink his hairstyle. James Phelps joked that his least favorite character was the Whomping Willow, saying it was a nasty thing for no reason.
This was Rupert's first convention and he said that if he was to Cosplay, he would be "My Little Pony" and added he would like to play James Bond – he feels the world is ready for a ginger James Bond. It was clear with the joking and teasing around that these four actors truly enjoyed being in each other's company. ~Article and photos by Joanne Chu-Fook and Aaron Marcovitch