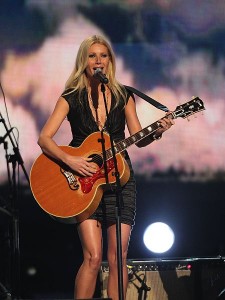 Could Oscar-winner Gwyneth Paltrow be the next Carrie Underwood? If last night's Country Music Awards are any indication, the answer could be a resounding yes! Hitting the stage to perform the title track from her new film Country Strong, Paltrow wowed the crowd, or at the very least didn't embarrass herself, at the 44th Country Music Awards.
Rumour has it that record companies are now courting Paltrow for a potential album. One source told E! Online, "She's been approached." Whether that will ever materialize into an album, or if Paltrow will join the long list of failed celebrity-turned-musicians (Bruce Willis is all that needs to be said here), is anybody's guess. But with a decent turn in front of country music's biggest and brightest stars at the CMAs, is it only a matter of time before Paltrow starts upstaging Coldplay hubbie Chris Martin at the music game?
Country Strong, which stars Paltrow as a washed-up country musician attempting to rehabilitate her faltering career, co-stars Garrett Hedlund, Leighton Meester and real-life country singer Tim McGraw, and opens December 22.
Dan Blackwell