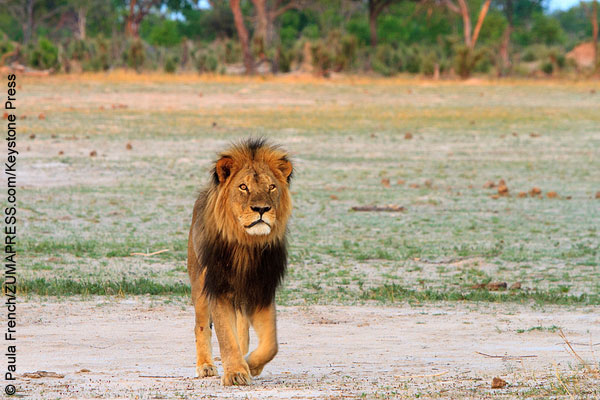 The death of Cecil the lion (pictured above) has been going viral on mainstream media in the past week. The beloved lion was shot and killed on July 1 by an American dentist Dr. Walter Palmer at Hwange National Park in Zimbabwe.
Palmer has already received major backlash from around the world across social media. Celebrities have also been sending angry messages to the dentist, including actress and avid animal lover Betty White.
"You don't want to hear some of the things I want to do to that man," Betty told the Associated Press. "It's such a heartbreaker… to see this king of the jungle and personifying it in every way, this gorgeous creature. How can somebody do that?"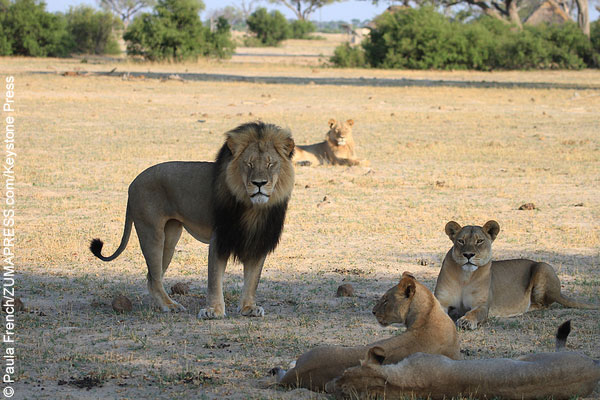 Palmer paid $55,000 to kill Cecil, pictured at left with his pride, while on a hunting trip. However, since the outcry, he has gone into hiding and the circumstances of the kill are now being investigated by the U.S. Fish and Wildlife Service.
Other celebrities have expressed their disgust and anger towards the dentist via Twitter.
"When he dies, I hope someone mounts his ugly ass head to the wall. #WalterPalmer is a COWARD," tweeted Sharon Osbourne. "I don't know how anyone could go to this man for dental services after this. He is a killer. Beware!"
Model and actress Cara Delevingne described Palmer as "a poor excuse of a human being."
Olivia Wilde tweeted: "Ohh the dentist 'had no idea' the lion was famous. Because had he known, he would never have murdered it without asking for a selfie first."
Ricky Gervais wrote: "It's not for food. It's not the shooting, or tin cans would do. It must just be the thrill of killing. Mental."
Mandy Moore: "This is heartbreaking in every possible way. What a loss. Trophy hunting is SHAMEFUL and disgusting."
Debra Messing: "I hope that #WalterPalmer loses his home, his practice & his money. He has already lost his soul…"
Mia Farrow, who also tweeted the address of Palmer's dentistry practice, wrote: "Animals are not trophies. Ever."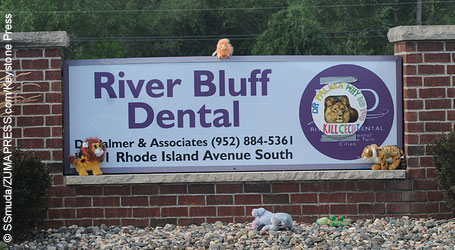 Lennox Lewis: "What difference does it make if the lion was famous or not? Trophy hunting is a very sick pastime."
Jann Arden: "I just paid 55 thousand bucks for a chance to chase a dentist through his office and pull all his teeth out. #CecilTheLion"
Roger Moore wrote a piece in The Daily Telegraph in which he stated: "Hunting is a coward's pastime, and no one has demonstrated that more clearly than the American dentist Walter Palmer…In a world with boundless opportunities for amusement, it's detestable that anyone would choose to get thrills from killing others who ask for nothing from life but the chance to remain alive. The animals whose lives he has so cold-heartedly snuffed out have precisely the same capacity to feel pain and suffer as we do… "Sport" hunting is a sickness, a perversion and a danger and should be recognised as such. People who get their "amusement" from hunting and killing defenceless animals can only be suffering from a mental disorder."
Meanwhile, Jane Goodall wrote on her blog: "I was shocked and outraged to hear the story of Cecil, Zimbabwe's much loved lion. Not only is it incomprehensible to me that anyone would want to kill an endangered animal (fewer than 20,000 wild lions in Africa today) but to lure Cecil from the safety of a national park and then to shoot him with a crossbow…? I have no words to express my repugnance. He was not even killed outright, but suffered for hours before finally being shot with a bullet. And his magnificent head severed from his wounded body. And this behaviour is described as a "sport." Only one good thing comes out of this – thousands of people have read the story and have also been shocked. Their eyes opened to the dark side of human nature. Surely they will now be more prepared to fight for the protection of wild animals and the wild places where they live. Therein lies the hope."
~Maria-Josee Martinez
RIP #CecilTheLion I'm struggling to imagine anything more beautiful than this pic.twitter.com/lile3Kb2dk

— Ricky Gervais (@rickygervais) July 28, 2015