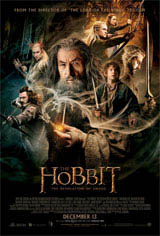 The second installment of the Hobbit trilogy fired up the box office this weekend, making $73.7 million on opening weekend with an impressive 4.6 star Tribute rating. Martin Freeman, Ian McKellen and Richard Armitage returned for the sequel and Orlando Bloom reprised his role as the elven prince Legolas. The latest installment also featured The Hurt Locker's Evangeline Lilly as the elf-warrior Tauriel, a character who didn't appear in J.R.R Tolkien's books. Benedict Cumberbatch, who also stars in this year's 12 Years a Slave, joined the cast as the voice of Smaug. But compared to the Hobbit: An Unexpected Journey, the Desolation of Smaug
fell short, seeing a 13 per cent drop from the original's $84.6 million haul in December 2012.
Melting into second place, Disney's Frozen, featuring Kristen Bell and Idina Menzel, earned $22.2 million in its third weekend, bringing its total to a grand $164.4 million. The animated film has a Tribute rating of 4.3 stars. Tyler Perry's A Madea Christmas struggled to compete with the Hobbit movie in its opening weekend, unwrapping $16 million and marking the lowest start for Tyler Perry's popular Madea films. But the movie, starring Chad Michael Murray, seems promising with a 3.8 star Tribute rating.
Two other sequels rounded out the top five. Catching Fire cooled down into fourth place at $13.2 million and holds a 3.8 star Tribute rating while Thor: The Dark World fought on, generating $2.7 million with a 4.2 rating. Capping off the top ten were: Out of the Furnace, Delivery Man, Philomena, The Book Thief and Homefront.
The con-artist film, American Hustle, featuring Christian Bale, Bradley Cooper, Amy Adams and Jennifer Lawrence is expected to smash box office, as it scored $690,000 from just six locations in an opening limited release the past weekend. The movie will be out in theatres on December 20. ~ Jennifer Yoo