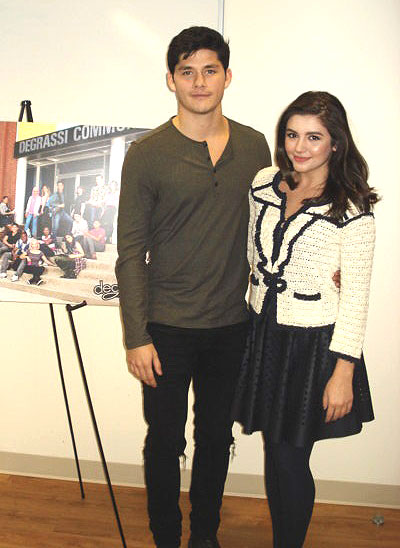 Degrassi: Next Class brings new and familiar faces to the popular Canadian show. The show tells the stories of Generation Z with equal measures of humor, angst and heart. The teen high school drama has brought several issues to light and this new edition of the series is no different. It will deal with a wide range of issues from racism and substance abuse to the complications of dating in the social media age.
We chatted with returning cast members Ana Golja, who plays Zoe Rivas, and Ricardo Hoyos, who plays heartthrob Zig Novak about what to expect on the show.
In 140 characters or less, how would you describe Degrassi: Next Class?
Ana: I'd have to check it on my keyboard. It's a new beginning.
Ricardo: New beginning, exciting, the same old Degrassi everyone has come to know and love, just revamped. I think that's a good way to describe it.
Ana: If we could say one word: revamped.
What can you tell us about your character's storyline for Degrassi: Next Class?
Ricardo: My character Zig is dating Maya. And they're having a nice relationship, and in the coming season, you get to see some of the rough patches. And dealing with, you know, normal relationship woes of the teenage psyche.
Ana: And with Zoe, you definitely see a softer side of her this season. You see that typical teenage struggle of trying to figure out who you really are and what's important to you. Just getting to know who you are and you see her struggle with that.
How do your characters evolve from Next Generation?
Ricardo: I think again it goes back to us being allotted that explicitness and genuine style. Going back to that raw, unadulterated way of acting that works as a catalyst for us to be able to present our characters in a more exciting and real way.
Ana: That's the biggest. Exactly.
What has been your favorite storyline for your character so far?
Ana: Purely just because of the impact that it had, I would say the sexual assault storyline for me as Zoe. The response that I got back from that storyline was absolutely incredible. I had fans sending me mail opening up about their experiences with sexual assault and connecting to me. And saying how the show really helped them. And just the idea of us being part of something that big, at such a scope, making a difference in people's lives – it's why we're on the show, it's so rewarding.
Ricardo: For me, it was dealing with all of the youth homelessness because my character was squatting at an abandoned house. After those episodes aired, the same thing as with Ana, I got an overwhelming response from homeless youth and how that really helped them. They were really able to identify with my character. I did some work with homeless youth at different events and I got to meet some of these kids, and that was really rewarding that I was able to connect with those people on such an emotional level.
What's it like to know that Degrassi: Next Class is also going to stream on Netflix in addition to airing on Family Channel?
Ricardo: Incredible. Netflix is huge, everyone that I know knows Netflix. Everyone has it, everyone watches it. To say you're a part of such a successful institute is pretty sweet.
Ana: Yeah, it's just an honour for us. As soon as we got the news, we were all screaming. We were so excited.
What is the main play in this new chapter that will appeal to this generation's audience? What kind of issues will be discussed?
Ana: As I mentioned earlier, we deal with those subjects that the show has always dealt with. So the racism, the sexual consent is being dealt with.
Ricardo: I think the one thing that is constantly evolving and changing is the technology, just in the world, and that's something that we're able to tackle that we haven't been able to tackle in years past, simply because it hasn't existed. So you're gonna see some more of that in the next season.
Ana: Social media plays a huge role in the show this year.
What are the new actors like and are you taking them under your wing?
Ricardo: Ugh, they're the worst. Laughs. So awful, spoiled brats, really.
Ana: They're so great. It's so strange for us to now be the seniors. We're the oldest ones on the show.
Ricardo: Yeah, it's bizarre.
Ana: It's so strange.
Ricardo: I don't feel like I'm the oldest. It's like high school, when you get to grade 12, you still don't feel like…
Ana: You're like, "time flies."
Episode 15 of Next Class will mark the 500 episodes of Degrassi and I heard there will be special cameos. Do you know who? 
Ricardo: You're going to see some familiar faces from the show's past.
Ana: I think that's all we can really say.
Ricardo: Without giving too much away.
Who would you like to see?
Ana: Nina Dobrev!
What has been your craziest fan encounter?
Ana: For me, the craziest most mind-boggling experience, was when I tweeted that I was going to be at WE Day Minnesota. And just based on when I posted the picture at the airport, fans who lived in Minnesota were able to track what flight I would be on. They showed up at the airport with posters and t-shirts and a whole bunch of stuff for me to sign. It was really weird.
Ricardo: Honestly every time someone recognizes me, I am just surprised that even happens. So I think every time I am shocked. I don't know if I have a specifically crazy thing that's happened. That always blows my mind that someone could recognize me that I don't know.
Do you have a dream role?
Ricardo: I always, when I was a kid, wanted to be Spider-Ricardo. So I think like the new Spider-Man, that would be sweet if I could get in that. Take the suit home afterwards. I'd never take it off.
Ana: I will follow that with the ultimate girl fantasy of being a princess. If I could play Anne Hathaway's character in Princess Diaries or something like that. That would be something fun.
What is your advice for young people looking to break into the world of entertainment?
Ricardo: I guess, it's kind of cliché, don't give up. Because there's a lot of rejection in this industry. You'll do a dozen auditions and won't hear anything back and you're kind of like "Am I the worst actor of all time? Or what's going on here?" There's so much that doesn't have to do with you. You're too tall, or you're too short, or your hair's brown, or it's blonde. It's easy to get down on yourself when you are in this industry, but if you really believe in yourself and you keep trying and don't give up you can really see the fruits of your labor.
Ana: I completely agree. My advice would be to never lose sight of who you are. And always surround yourself with like-minded people who will keep you humble and support you.
What's next for you?
Ana: Currently I'm working a lot on my music. So that's keeping me very busy. Currently putting my debut EP together.
Ricardo: As for me, I just finished filming a feature last month. It's a really nice film called Sadie's Last Days on Earth. I feel really good about it, it's a really, really nice film. Can't wait for it to come out.
Thank you for the chat!
Thank you!
~Marriska Fernandes
Degrassi: Next Class airs weeknights on at 9 p.m. ET/PT. on Family Channel's new teen channel F2N.