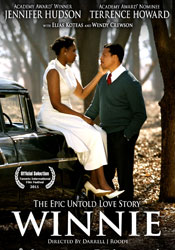 Director Darrell Roodt was born and raised in South Africa. Just a baby when Nelson Mandela was sentenced to life imprisonment, he remembers the turbulent, violent time of apartheid. His new movie, Winnie, which opens nationwide in Canada this Friday, October 5, tells the story of Nelson Mandela's wife, Winnie Mandela. Based on the book by Anne Marie du Preez Bezdrob, Winnie Mandela: A Life, the movie stars Oscar-winning actress Jennifer Hudson in the lead role.
Roodt believes Winnie had more effect on the eventual liberation of blacks in South Africa than her husband Nelson Mandela, who was in prison for 27 years while Winnie was on the outside, fighting for her rights.
The movie shows Winnie as a girl who so desperately wants her father's love that she tried her best to be the boy he always wanted. She learned to be tough by being the only girl to participate in stick fighting with boys. This early experience may have helped give her the strength she needed later in life, when she carried on her husband's message while he was incarcerated and when she was imprisoned in solitary confinement for months, wearing only the nightgown she was arrested in.
Roodt made his first film when he was 23, called Place of Weeping, a drama about injustice towards black South Africans when a Zulu farmhand is murdered and no one cares.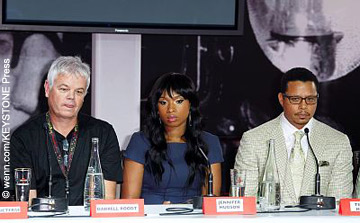 Did you ever see any of the violence that was connected with the fight for liberation?
Oh, yeah! It was everywhere, it was all around us constantly. It was a war out there on the streets. It was tough times. It was a great time to be young, fighting that fight. I did it with movies, others did it with machine guns.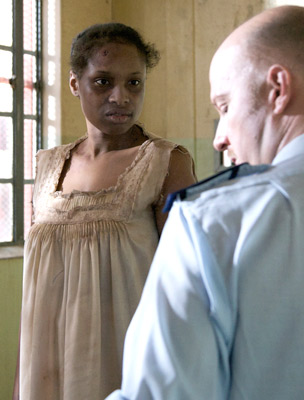 How is Winnie regarded in South Africa today?
She's still a polarizing figure. Some people love her, some people hate her. But I think if you ask the man on the street, the man in the rural area, he would definitely still support Winnie because she still stands for what she believes in, in terms of equality. She hasn't gotten caught up in the murkiness of practical politics in South Africa. Because it's one thing to have a noble cause and it's another thing to actually implement it. It's very tricky.
Do you think the violence she condoned was necessary to get the world to pay attention and to overcome the prejudice?
Well, I think it was because no one was listening. When she started off her struggle, she tried to do it the nice way. She'd go to newspaper journalists and say, "Excuse me, my husband's in jail for life for something he didn't do wrong. Can you please write about it?" And they kind of poo-pooed her. So she took the faster way.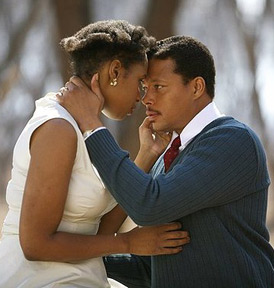 Terrence Howard was incredible as Nelson. How did you come to cast him?
He was my first choice. I've been a fan of his for years, I just think he's an extraordinary actor. He's got an uncanny resemblance to Mandela. Especially the younger Mandela. It's uncanny the resemblance. And you know, someone like Terrence is astonishing because he's an actor who loves his craft and he invests in it with his whole soul. Even six months before coming to Africa, he was already in his mind's eye, Nelson. When I had phone conversations with him, it would be like talking to Nelson Mandela on the telephone, it was quite extraordinary.
It was really moving the way he played it, portraying Nelson's gentleness as well as his strength.
Yeah, and something I was also trying to do there — I wasn't just trying to show "the messiah" — the E.T. of politics, I really wanted to show him as a human being — an infallible human being, too. When he's sitting in jail and people are filtering information to him about his wife sleeping around, that was also like a campaign to unnerve and unravel him. I love that scene where he bangs the table and accuses her of sleeping with someone, it's just like, it's so wrong. Because not only are they fighting the fight but now they're fighting each other.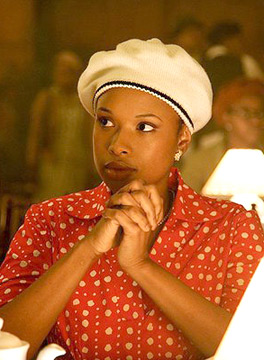 Why was there opposition to casting Jennifer Hudson as Winnie?
South Africans are very proud people, as are all nations. So when it comes to such icons as Winnie and Nelson, there was a big outcry as to why I was casting Americans. But I just used to say, "I'm not casting Americans; I'm casting great actors." And, I need a certain amount of money to make the film I want in my mind's eye, so I've got no option but to cast great actors to get the money to make a great movie.
Winnie is a South African/Canadian co-production. How did that come about?
There's a fantastic treaty between the two countries in terms of an exchange. The South African producer hooked up with the Canadian producer and the Canadian brought the cinematographer, the editing and we brought the rest. It was a fantastic synergy that went down. It was really interesting to work with the Canadians. For example, the cinematographer was saying, "What about this?" And I'd say, "Yeah, wow, I hadn't thought of that." I took [the beauty of South Africa] for granted.
What is it like in South Africa today? Has it changed from when you were a youngster?
Look, the liberation of South Africa was a wonderful thing. For years, people were oppressed. But the problem now in South Africa is that the ANC (African National Congress) have been in here for 20 years and yes of course, things are fundamentally changed for the better. And you can't blame the ANC for not changing everything in just two decades, it's not possible because apartheid left a gigantic scar. That will require a lot of time to heal. But at the moment there's a lot of dissent on the streets because there's not enough change. For example, I shot in Soweto [South Western Townships, where black people who were evicted from their homes by the government, which wanted to establish all-white cities and towns, were forced to live starting in 1948] back in the day and I shoot in Soweto now, and if you ask me, very little's changed.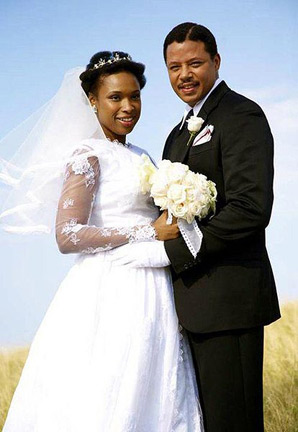 So there are still people who don't agree with blacks getting equal rights?
No, no, no, I think that's all accepted. It's the man on the street who finds himself poorer than ever before. This is an interesting sidebar, but it's a bone of contention between Winnie and Nelson for example to this day, is that a lot of people said [Nelson] was too easy on white South Africa because the forgiveness came too quickly. We had Truth and Reconciliation committees, blah, blah, blah, but a lot of people are saying that what he should have done is nationalize the mines, the farms, etc., so that process could have started immediately and so by now, have stabilized. But the problem is, it's still all controlled by Big Business.
Was there a movie that inspired you as a youngster to want to become a director?
Two films. Taxi Driver and Apocalypse Now. (laughs)
One last question – what's next for you?
I've just made — excuse me for saying so — a wonderful little film called Little One. And on Friday we were accepted as the South African representative for the Oscars. So that's fantastic.
Wow! That's terrific.
It's a wonderful film about the little people and it's just an incredible story. It's about this six-year-old girl who's raped by three men who attack her and beat her up savagely. And the woman who finds her, this very poor woman, saves her life and gets her to the hospital, but once she's in the hospital no one comes forward to rescue this little girl. This is based on a true story. And the woman who found her tries to adopt this little girl but because she's poor, she can't. So she actually kidnaps the kid away from the hospital once she's recovered and then she makes it her mission to find this little girl's mother. But by the time she reunites her with her mother at the end, of course, these two have bonded fundamentally, but she has to let this little girl go. It's so moving.
That sounds amazing. Will it be released in Canada?
Yes, it will, ultimately. Hopefully it'll win the bloody Oscar. (laughs)
~Alexandra Heilbron