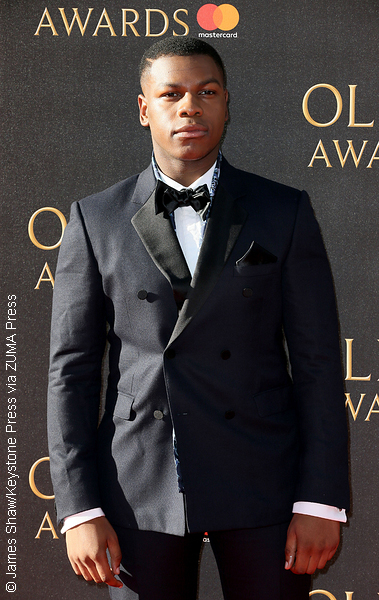 John Boyega's celebrity status has been steadily increasing thanks to his role as Finn in the latest Star Wars films. But before he launched into a galaxy far, far away, the actor frequently encountered questionable treatment while traveling.
In a Thursday, April 20 story published by London's Evening Standard newspaper, it was revealed that the 25-year-old actor's Nigerian heritage used to make him a target for U.S. authorities while he was commuting to and from Los Angeles for auditions.
He said, "I used to fly back and forth when I was hustling and auditioning for things in L.A. I'd get cheap flights and stay there for two weeks or whatever. And every time I was getting these random checks. Every. Single. Time."
Although John was eventually given a letter and the random checks ended, he said they were at one point "consistent."
He added, "I understand that [these things] are for our safety, but when you fly a lot and it happens three or four times, there's an element of, 'Okay, I'm still not a terrorist.'"
The London-born actor doesn't remember the airline responsible for the frequent checks, but shared that he did call them out for it at the time.
John, who has completed work on Star Wars: The Last Jedi and Pacific Rim: Uprising, is the second non-white British Star Wars actor to detail such a travel experience.
In September 2016, Golden Globe nominee Riz Ahmed penned an essay for The Guardian in which he disclosed how often he has been "typecast as a terrorist" at security checks.
The 34-year-old, who played Bodhi Rook in Rogue One, wrote, "Although my U.S. airport experience is smoother, I still get stopped before boarding a plane at Heathrow every time I fly to the U.S." ~Matthew Pariselli