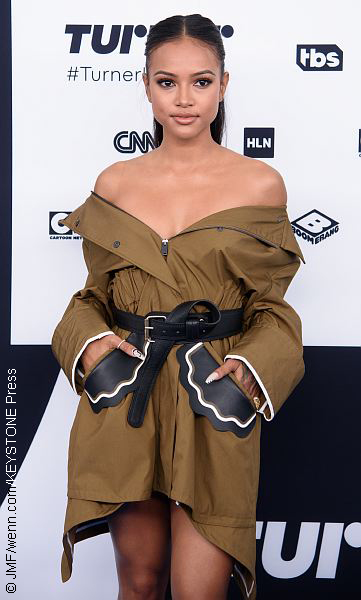 Karrueche Tran has finally gotten what she's been asking for from the courts.
The actress has been trying to get a restraining order against her ex-boyfriend, Chris Brown, for the past several months, after he threatened Karrueche and her friends with violence.
When the 29-year-old model testified in court on Thursday, a judge granted her a restraining order that will be in place for five years. The order will require Chris to stay at least 100 yards from Karrueche's home and job. Chris was also ordered to not destroy property, impersonate her (on the internet or through texts), or block her movements.
In her testimony Karrueche claimed Chris threatened her with messages such as, "I'm not being nice to you no more, if I see you out in public again and I'm there I will make sure you hate me even more, don't be anywhere I'm out in public, I'm going to ban you from all events," and "B**ch I will beat the s— out of you. I promise you I will make your life hell."
In February, Karrueche was granted a temporary restraining order against Chris. In the court documents, she claimed the singer said he was going to kill her and that he physically abused her while the two were dating.
Chris Brown has a well-documented history with domestic violence. In 2009, the singer was charged with assault after attacking his ex-girlfriend Rihanna. At the time, it was said Chris punched and bit her repeatedly. She also claimed she was choked, and he threatened to kill her.
During cross-examination, the singer's lawyer brought up the point that Karrueche never reported the threats to police. Chris wasn't present in court, and the judge reportedly refused to allow him to join by phone.
The couple dated on and off for four years between 2011 and 2015. Karrueche broke up with him for good after discovering Chris had cheated on her with model Nia Guzman, with whom he has a child, born in 2014. ~Brenden Zerihun