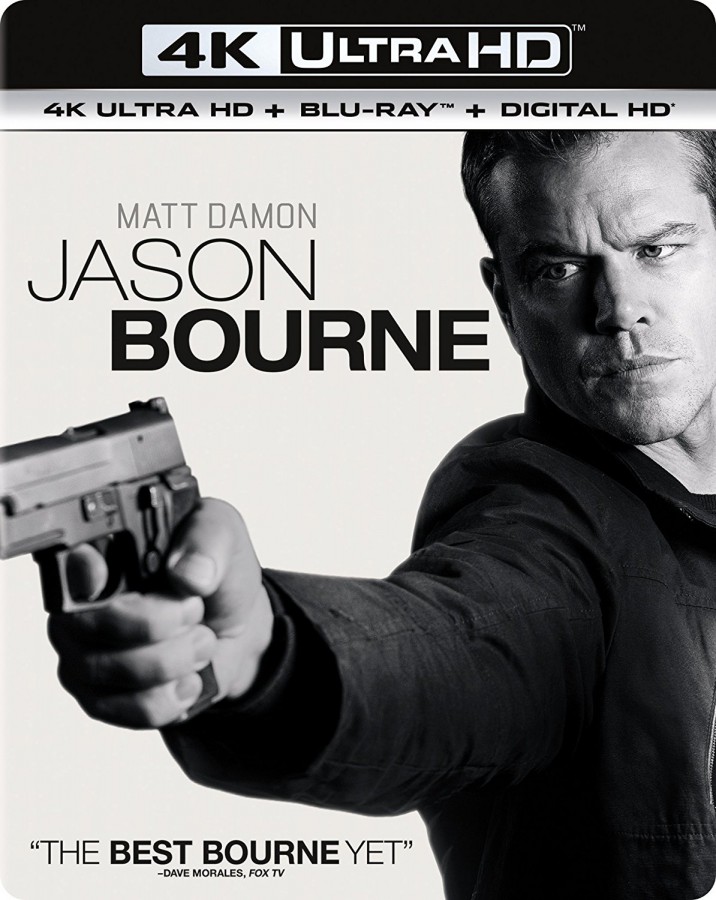 Jason Bourne picks up about 10 years after the events of the Bourne Ultimatum, in which Bourne took down a CIA black ops program called Black Briar. Now having regained some memories of his former life as "David Webb," he's become an off-the-grid wanderer who makes a living by participating in illegal fighting rings.
However, his ghostly, nomadic lifestyle is interrupted when an old friend, Nicky Parsons (Julia Stiles), visits him with some shocking information she hacked from the CIA about Bourne, his father, Operation Treadstone, and a new black-ops operation called Iron Hand.
Nicky realizes the CIA is hot on her trail for stealing that information, and therefore, her ill-planned "meet cute" with Jason in Athens restores him as the CIA's most-prized target. Now he's back on the run from CIA Director Robert Dewey (Tommy Lee Jones), along with the fresh-faced head of the cyber-ops division, Heather Lee (Alicia Vikander) and a lethal assassin named The Asset (Vincent Cassel) who's got a long-standing grudge he plans to fulfill.
Matt Damon puts his all into his role as the hardened and world-weary Jason Bourne, and he should — he's had a decade of rest. Damon is always compelling to watch, mostly because Bourne is a compelling character to play. He's certainly more tortured this time around, with the gravity of his ill deeds as an assassin and the questions of his past weighing him down. It's a strong, determined performance that will certainly leave audiences wanting to see more of the titular character.
While Damon commands the screen, his co-star, Tommy Lee Jones, is just fine as the director with a twisted sense of patriotism. While a Tommy Lee Jones performance will never be mediocre, this one might just be as close as it gets. Whether it's an issue with the script or his story arc, he's missing that menacing gleam in his eye, the one you've see in movies like The Fugitive or Natural Born Killers. Even in Batman Forever.
Along the same vein, Alicia Vikander is good, if not slightly miscast, as Lee. She, like Jones, is missing some edge. It was difficult to gauge exactly what her character's motives were and what purpose she served — is she a good guy or a bad guy? Is she intriguing enough to care?
Vincent Cassel, on the other hand, was mighty intimidating as the Asset, and his motives were very clear. Cassel is just such an interesting actor with a really unique, emotive face — which makes him the perfect villain. He was definitely one of the most compelling characters in the movie, and it's a shame he wasn't given more screen time.
While this latest installment (again directed by Paul Greengrass) has all the ingredients for a great action flick, it's missing a bit of the spirit and daring of its predecessors. And like a few of its main characters, it lacks that bite. The handheld, shaky camerawork felt like an attempt at some rawness and intensity; but it mostly just triggers vertigo. It's natural to compare each sequel to its sire, The Bourne Identity, and, unfortunately, this one just doesn't feel as fresh. It's a story we've seen before — three times.
This is not to say that Jason Bourne was bad; in fact, it was pretty good in the grand scheme of things (especially if you haven't seen the previous three). Like I said, it has all the ingredients — edge-of-your-seat car chases, bone-crunching fight scenes (one in particular between Damon and Cassel was quite stunning, and you can find out more about it in the special features), stellar visuals, a strong script, and a great score. However, it just needed that little bit more oomph to take it from "Pretty good" to "Great."
The Blu-ray pack offers a slew of bonus featurettes including an excellent behind-the-scenes look at the fight I mentioned called Underground Rumble, as well as a play-by-play of an epic car/motorcycle chase scene in the middle of a burning Athens titled The Athens Escape. Other great specials include Bringing Back Matt Damon as Bourne, Bare-Knuckle Boxing, Close Quarters Combat, Convention Chaos, and Shutting Down the Las Vegas Strip.
We have an extra copy of Jason Bourne to give away to one lucky reader. If you'd like to participate, tell us below the name of your favorite Matt Damon movie.
Have you seen Jason Bourne? Click here to rate and review it yourself.