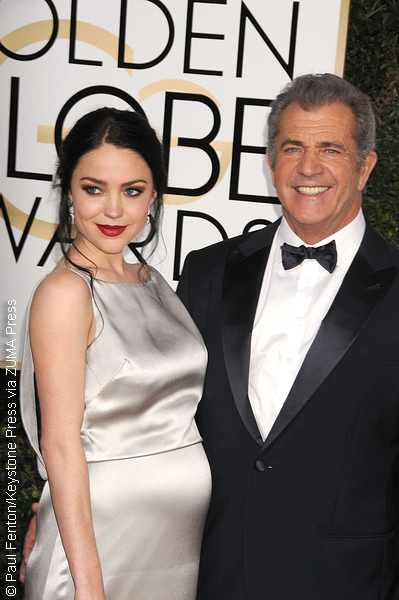 It seems that Mel Gibson has much to celebrate these days!
The 60-year-old actor/director and his girlfriend, Rosalind Ross, 26, welcomed their first child together on Monday, Jan. 23, 2017. The couple, who have been together since 2014, named their son Lars Gerard Gibson.
Mel and Rosalind announced they were expecting in September, with Rosalind showing off her growing baby bump on the red carpet at the Golden Globes earlier this month. This is Gibson's ninth child — he has a daughter with former girlfriend Oksana Grigorieva and seven children (Hannah, 36; Edward, 34; Christian, 34; Will, 31; Louis, 28; Milo, 26; and Tommy, 17) with his ex-wife, Robyn Moore, who divorced him in 2011. Mel also has three grandchildren.
There may also be another new addition joining their family soon — a golden statuette. It was announced today that Mel has been nominated for the Oscar for Best Director for his film, Hacksaw Ridge.
The war drama, which follows the true story of Desmond Thomas Doss (Andrew Garfield), the first conscientious objector to win the United States' most prestigious military award, is also up for Best Actor (Garfield) and Best Picture.
If the film wins, it will be Mel's second time receiving the honor. He previously won Best Director (and Best Picture) for 1995's Braveheart.
The 89th Academy Awards will air on Sunday, Feb. 26, 2017. ~Ashleen Grange