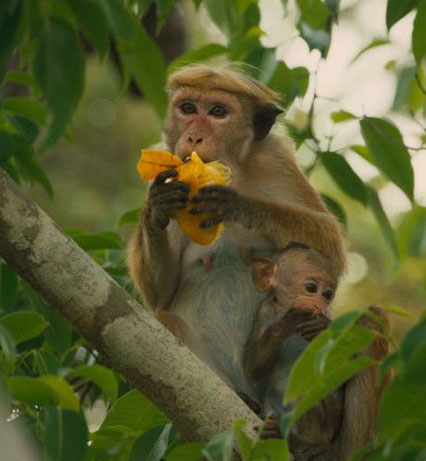 Monkey Kingdom is a beautifully filmed story about a toque macaque named Maya (pictured at left), who lives within a troupe of monkeys in Sri Lanka. The film follows her as she meets a monkey from outside of her troupe and has a baby.
We had the pleasure of speaking to co-director Mark Linfield, who also co-directed the Disneynature films Chimpanzee and Earth, about the logistics of filming a movie featuring these beautiful animals and finding a story within the footage they shot.
What inspired you to do a film about these monkeys?
It's funny because I've known these monkeys and this location for a long time. I've been going back for almost 18 years. I've always loved the place and I've always wanted to make a movie there. So when Disneynature started and we made a couple movies for them and they said, "What's next?" I just immediately knew. Because they are just such magical creatures. They're so expressive and their personalities are so clearly etched.
More than any other animals, their personalities are so distinctive, they're so different, and that's the real surprise when you're with them. Scientists from the Smithsonian have researching these monkeys for over 50 years and that means you have an incredible resource as a filmmaker to really understand what's going on and really get under the skin. I think what's great about this movie for me is it's a great, fun movie and great entertainment. It's probably the most detailed portrait of monkey life that's been filmed and the reason for that is we've had 50 years of scientific knowledge at our disposal and what the scientists were able to do, working with them all the time, was to help to predict what the monkeys might do next.
How were you able to get such incredible shots of the monkeys?
When you're a filmmaker, of course there are more shots that got away in the filmmaking than there are for the fish that got away in fishing. What these guys were able to help us to do was say, "See that monkey there, it's just about to walk up to this monkey and when it does, because of the difference in rank in those two monkeys, this is going to happen." So, we'd be rolling in advance and that was a huge advantage. Of course the other thing is that they were able to correctly analyze all the behavior that we'd got and what was really going on because sometimes in these films it can be a little bit of a slight of fantasy where the narrator is saying one thing and you're watching the behavior thinking, "That's not what's really going on." Having that acknowledgement, you really do get a very detailed look at monkey life, so it's more instructive than you might think.
When they know humans are nearby, does that change the way they act?
Well, it's interesting you say that, because in Southern Asia relationships with humans and animals go back thousands of years, so you don't really have quite the situation where you – in North America for example, the human population are all outside of the national parks. In Asia, people and animals tend to live side-by-side far more often and they have for thousands of years, so the animals are very used to living alongside people and the people are very used to living alongside animals. When we show the film to Westerners, they're always amazed and surprised by scenes of animals raiding the town and raiding houses and all that sort of stuff. You show the film to Sri Lankans and they're always amazingly surprised by the nuanced class system and the relationships the monkeys have with each other. They're completely familiar with monkeys in town, they see it every day, that is the least interesting thing to them.
Logistically, how difficult is it to follow the same monkeys for an entire season?
Actually, it's not incredibly difficult partly because of the scientists and partly because they have known home ranges. It's a very rich area and there are lots of fruit trees and lots to eat, so usually the monkeys don't have to roam too far. They don't go too far past the central home area, so you kind of know where to find them, particularly if you "put them to bed," which is what we do, and then we're with them in the morning before they wake up. We know exactly where they're going to wake up because we know where we put them to sleep.
When they were in danger, was it upsetting to watch?
Yeah, it's upsetting to see any monkey get hurt because you do feel a kind of kinship with them when you're with them. I often joke there's a little bit of monkey in all of us. But you definitely feel, with these monkeys, like they're thinking and whenever they're hurt or whenever they're in danger you sort of feel for them. And from a purely pragmatic point of view, can you imagine if we lost one of our stars halfway through the filming? Because that's a very practical consideration: if Maya or Kip died two-thirds of the way through. We're hugely committed to following the animal and what do you do? And the truth is, that absolutely could've happened and you just have to hope that you stay lucky. You're rooting for your stars not to die.
What is the biggest danger facing these monkeys today?
For almost every single animal it's loss of habitat and although we slightly make light of it in the film when the monkeys go into a town and, of course, they're quite good at getting the better of the humans and stealing the food. The reality is it's not a great diet for monkeys to eat cream cake and the stuff that they can get during raids. It's no substitute for the forest. And surprise, surprise, it's shrinking because the population is expanding. And that's the same for all of the animals there. In fact, the monkeys are slightly better off than most of the animals because you won't see bears going into the town looking for a supermarket that sells honey or something. They just avoid people, and as the forest shrinks some of the animals aren't clever enough to live alongside people quite the way monkeys are.
Can you tell us which are your favorite animals?
I love these monkeys. I've always loved primates. I've got a soft touch for orangutans. They're my other passion. Maybe one day I'll make a film about those. But the monkeys, for now, they've been my recent passion.
Thank you so much for talking to us today!
Monkey Kingdom is now available on Blu-ray and DVD.