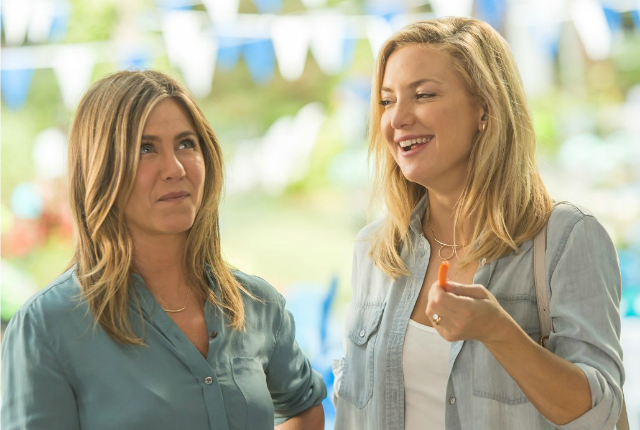 It's charmingly appropriate that in the week preceding Mother's Day, the trailer for the film Mother's Day is the most watched on our site. Purring its way into second place is the cat-centric Keanu while a trio of overworked and undervalued moms intrigued enough viewers to slide into third spot with Bad Moms. The trailer for the box office king The Jungle Book snags the fourth position while the first trailer for Snowden rounds out the top-five list. ~Matthew Pariselli
Watch all the top trailers below:
1.) Mother's Day
2.) Keanu
3.) Bad Moms
4.) The Jungle Book
5.) Snowden
Mother's Day- Sandy (Jennifer Aniston), a divorced mother of two boys, gets along with her ex-husband. Jesse (Kate Hudson) and her sister Gabi (Sarah Chalke) try to keep their racist parents in the dark about their relationships. Miranda (Julia Roberts) is a successful entrepreneur who has never married and claims to be childless. Bradley (Jason Sudeikis) is a widower struggling to raise two daughters, one of whom is now a teen. These seemingly disparate storylines collide in this hilarious comedy that takes place in the week leading up to Mother's Day.

Keanu- Rell (Jordan Peele) answers the door of his L.A. home to find an adorable kitten pleadingly looking up at him, and just like that his life is changed. He grows incredibly close to the cat that he names Keanu and is understandably heartbroken when Keanu is abducted. To retrieve him from the street gang he believes took Keanu, Rell employs the help of his equally straight-laced cousin Clarence (Keegan-Michael Key). The men decide to impersonate ruthless killers in an effort to infiltrate the gang and gain access to the coveted cat.

Bad Moms- At first glance, Amy Mitchell (Mila Kunis) has a perfect life. She puts her family first, but her childish husband, demanding kids and idiot of a boss are finally getting to her. When pressure is put on by the alpha moms at her kids' school, including PTA Queen Bee Gwendolyn (Christina Applegate), Amy snaps and teams up with two other misfit moms (Kathryn Hahn, Kristen Bell) on a quest to free themselves from conventional responsibilities. They go on a well-deserved binge of freedom, fun and self-indulgence.

The Jungle Book- In this revamp of the classic Rudyard Kipling novel, orphan boy Mowgli (Neel Sethi) is raised in the jungle by Bagheera (Ben Kingsley) the panther, and Raksha (Lupita Nyong'o) the mother wolf and her cubs. Although he wants to live as one of the wildlife, it's clear that Mowgli should live in the "man village." With the help of Baloo (Bill Murray) and King Louie (Christopher Walken), the King of Apes, Mowgli fights the despicable villains Shere Khan (Idris Elba) and Kaa (Scarlett Johansson) and ultimately decides his future as a human in the jungle.

Snowden- This films chronicles the true story of Edward Snowden (Joseph Gordon-Levitt), an American who sought to serve his country through the Special Forces. When he badly injured both of his legs, he pursued a path towards the CIA and was eventually signed on as an employee, as well as an NSA contractor. But while working, he uncovered some questionable practices and in a bold and brazen move, leaked thousands of classified documents to the press in 2013. The film co-stars Shailene Woodley, Melissa Leo, Nicolas Cage and Zachary Quinto.