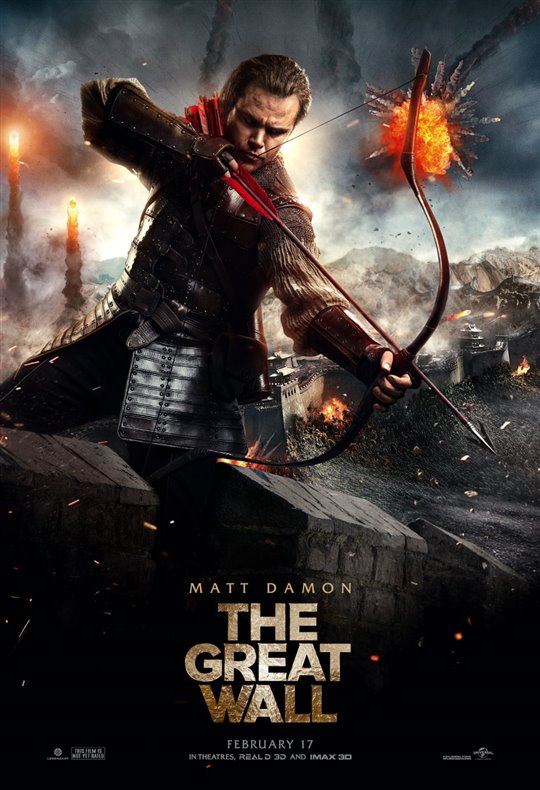 Most people will be enjoying a long weekend this weekend, which may mean taking time to show your loved ones you care. We have the scoop on all the new releases coming your way, to keep the family fun going!
Matt Damon learns the mystic and mysterious secrets that are hiding beyond The Great Wall.
What happens when two teachers can't play nice? A hilarious after-school brawl in Fist Fight.
In A Cure for Wellness, a young executive (Dane DeHaan) travels to a hidden wellness center, only to realize the so-called cure might come with sinister side effects.
Check out the full list below! ~Ashleen Grange
The Great Wall – European mercenaries William and Tovar (Matt Damon and Pedro Pascal) and their group are taken prisoner by Chinese soldiers, who are part of a secret military sect. Soon the mercenaries learn that they must team up with the soldiers, including General Shao (Zhang Hanyu), to fight off an attack by ancient monsters on the world's most iconic structure — the Great Wall of China. Releasing wide today. Click for showtimes.
Trailer: The Great Wall
Fist Fight – When mild-mannered high school English teacher Andy Campbell (Charlie Day) is accused by his much tougher colleague Ron Strickland (Ice Cube) of getting him fired, Andy is challenged to an after-school fist fight. It's the last day of the school year and as word of the fight spreads, Andy is forced to take any help he can get in preparation for the throwdown in the school's parking lot. Releasing wide today. Click for showtimes.
Trailer: Fist Fight
A Cure for Wellness – An ambitious young executive (Dane DeHaan) travels to the Swiss Alps to retrieve his boss from a "wellness spa," only to find that his boss has vanished. He is then trapped in the facility, and begins to realize its staff have a far more wicked plan than to simply improve the health of their patients. While held at the spa, he encounters a young girl named Hannah (Mia Goth), a longtime spa patient who is oblivious about what horrible things the spa director has prepared for her. As the young man's sanity is tested, he discovers that he has been diagnosed with the same outlandish illness that keeps all the patients at the spa hoping for a cure. Releasing wide today. Click for showtimes.
Trailer: A Cure for Wellness
Land of Mine – After Germany surrenders at the end of WWII, thousands of captured German soldiers are sent out to remove over 1.5 million mines placed by the Nazis on Denmark's west coast. One of the groups, made up of young prisoners of war, is met by the stern Danish army sergeant Rasmussen (Roland Møller). Each day, he sends the group of 14 boys into the sand dunes to search for mines. As they suffer more and more casualties, Rasmussen finds his attitude towards them changing. In select Toronto theaters today. Click for showtimes.
Trailer: Land of Mine
A Man Called Ove – Ove is the quintessential angry old man next door. An isolated retiree with strict principles and a short fuse, who spends his days enforcing block association rules that only he cares about, and visiting his wife's grave, Ove has given up on life. Enter a boisterous young family next door who accidentally flattens Ove's mailbox while moving in. From this inauspicious beginning, an unlikely friendship forms and we come to understand Ove's past happiness and heartbreaks. Screening in select theaters in Toronto, Montreal and Vancouver today. Click for showtimes.
Trailer: A Man Called Ove