Orphan Black's Tatiana Maslany dishes on Season 4 and clone inspirations
By Marriska Fernandes on April 14, 2016 | Leave a Comment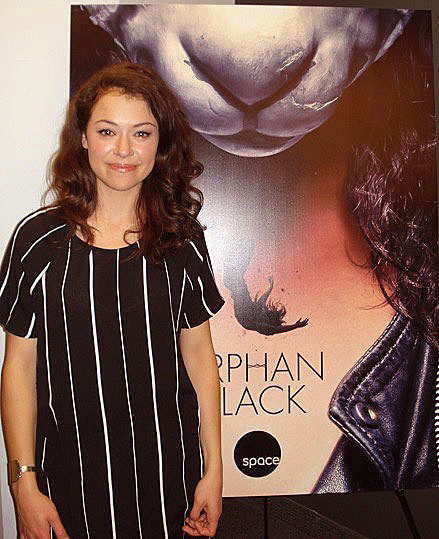 Emmy-nominated actress Tatiana Maslany has a lot going for her and she couldn't be happier. The actress, who plays multiple clones on the Canadian sci-fi thriller Orphan Black, has received critical acclaim for her performance on the show.
With Season 4 kicking off tonight, we sat down with the actress, or one of her clones, to chat about what we can look forward to in the new season, who inspires her during the transition from one clone to another, which clone was a stretch for her and when can we expect to see more of our favorite Krystal, of course.
What can you tell us about Season 4? Where does it pick up?
I can't tell you too much but we start to understand the origins of things: who is behind things and why. The clones start to understand a bit more about their identity. It picks up right after Season 3. When we last saw Sarah, she was in a peaceful place with her daughter, but that doesn't last long.
The teaser shows a new clone, M.K., sporting a Dolly the Sheep mask. Tell us about M.K. and how will her storyline blend with the sisters?
M.K. is a new clone that we introduced this season. She's got a lot of information that we didn't have previously. She's a hacker and so she's inside of things. But she's a bit anti-social and hard to pin down. She's afraid and doesn't really connect with people. There are definitely trust issues around her.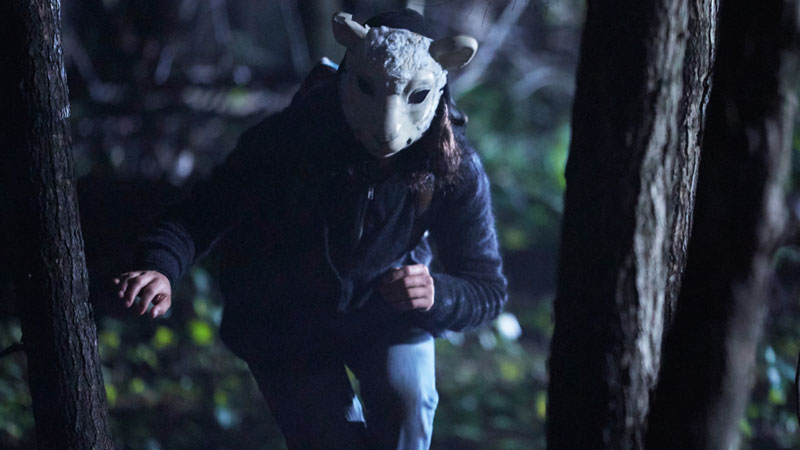 In the past season, the sisters were fighting their own battles. Sarah with identity, Cosima with health. What are some of the demons the sisters will be fighting this season?
That's a great question. There's always this sort of battle for autonomy and freedom. That's a big one this season, especially for Sarah. She's always fought for her freedom. That's a real strong fight she puts up this year against new enemies. She just wants to be her own person and live her own life and not be dictated by a corporation.  Alison is going through some stuff – she and Donny have had a rollercoaster of a ride the last few seasons in terms of criminal activity. Keeping that under wrap and the bodies buried in the garage – that's not going to last.
Do you have any say with the writers and producers when it comes to creating a new clone?  Like which ones?
[Co-creator] Graeme [Manson] talked to me this summer about M.K. and we got to discuss her quite a bit and sort of spitball who she might be. Graeme is so amazing when creating these characters and given me so much to work with. But he's also open to what I think and what I'm interested in exploring. He's very collaborative in that way.

I read about how Krystal came to be – and that's a very interesting story. Can you tell us about that?
Krystal was kind of like a joke…
A good one I might add…
She was supposed to die in a flashback in security footage (laughs). But I was dressed in her outfit and playing this voice on a comedy show called the Kroll Show and they do these characters called PubLIZity. They are these two publicists and their characters are amazing and so obnoxious. I was doing the voice and then the creator of the show said, "Well, we can't kill her." So he brought her back in episode 8 of that season and we do see her in the preview of the next season. She's so much fun. She's so opposite to the other characters. She's so unassuming. You kind of judge her instantly based on how she looks. I like that we flip that on its head and she ends up being a lot more resourceful and a lot more intelligent than people would give her credit for.
Which clone do you most closely relate to?
Krystal (laughs). They're all parts of me, but if I had to choose a confidante, I'd say Cosima probably.
I love how the series can sometimes be so mind-boggling. Mostly, when a clone disguises herself as another clone! How will Season 4 push the limit?
Yeah, we do more of that. There are always clone hijinks, which is always fun for me. To play one clone playing another. The sisterhood is strong at this point. They all really fight for each other. I think that's something we really explore this season.
How do you get into the mindset of each character?
It depends on the character. Cosima, when I was researching her, was a lot more intellectual and learning more about the science and understanding that in a way that connected with me, in an emotional way.  Sarah was a lot more physical and music-based, sort of about movement and the veneer reflecting something different than the interior.
Is it easier to transition between the characters now than four seasons ago?
I know them better so there's a shorthand that I have that I'm able to access a bit more easily. But they are changing and growing and I try to never stay in one place with them.

How much time do you get to transition?
It depends how much time it takes in hair and makeup. It's maybe an hour and a half.
As an actor who has played so many different roles on screen, some at the same time, what has been the biggest challenge for you?
In terms of the role, I think Rachel was really hard for me. The corporate clone that we meet at the end of Season one. Just in terms of her physicality and entitlement and her class. I found it foreign to me – a big stretch for me.

Who do you look up to when portraying these roles?
There's a lot of actors I watch. I remember when I got the job I watched Sam Rockwell in Moon, because he plays clones in that. He as an actor is so interesting to me because he's so spontaneous and so physical. It seems like he's improvising everything. So to see him in a movie where he has to do a rigid thing to play opposites to himself, it was good to watch that. I could see that there was potential for play in it and it didn't have to be so stiff and unalive. He made it seem so effortless. So I took a lot from him. And all the characters I pulled from different people.
What about for Rachel, since you said it was a stretch for you?
For Rachel, I looked at actresses like Helen Mirren and Cate Blanchett who have this elegance and this strength that's so quiet and dangerous. They are really powerful women and graceful. No bullshit.
What's next for you?
I'm going to Boston to film a movie called Stronger with Jake Gyllenhaal. It's about a family that goes through a big shift when the Boston Marathon bombings happen and they have to deal with picking up the pieces of their life and putting it back together and surviving a tragedy like that; the strength of any two people in a relationship and what you do when that's tested.
Wishing you all the best and thank you so much for chatting with us!
Thanks so much!
~Marriska Fernandes
Orphan Black airs Thursdays at 10 p.m. ET on Space.
---
---
---
Similar Articles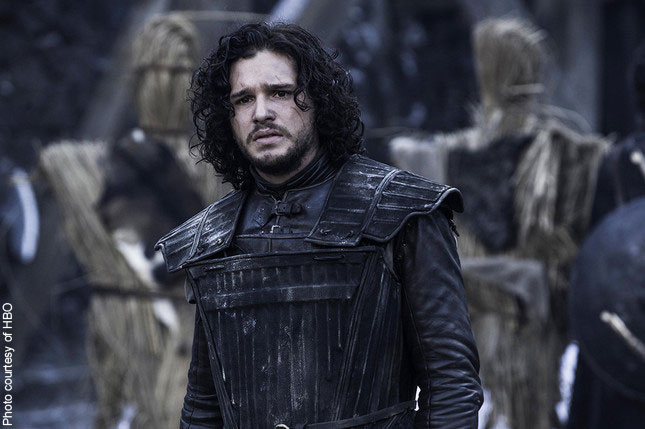 July 12, 2018 | Leave a Comment
The nominations for the 70th annual Emmy Awards were announced today. HBO's Game of Thrones leads the pack with a total of 22 nominations, including best drama.
---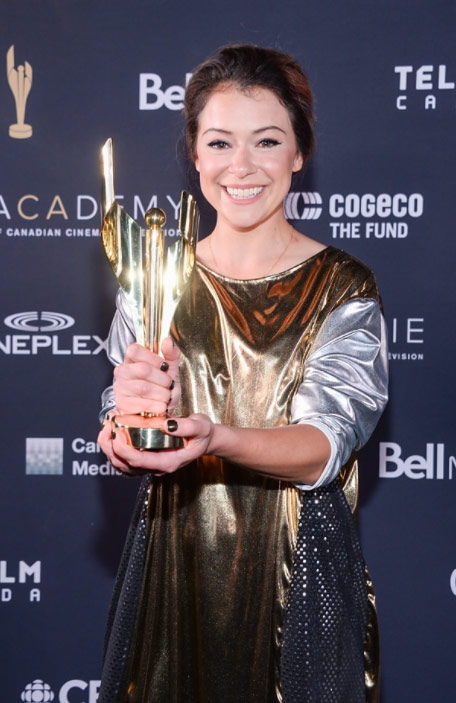 March 12, 2018 | 2 Comments
The Newfoundland-filmed Maudie starring Sally Hawkins and Ethan Hawke took home seven Canadian Screen Awards last night during the ceremony, broadcast on CBC.
---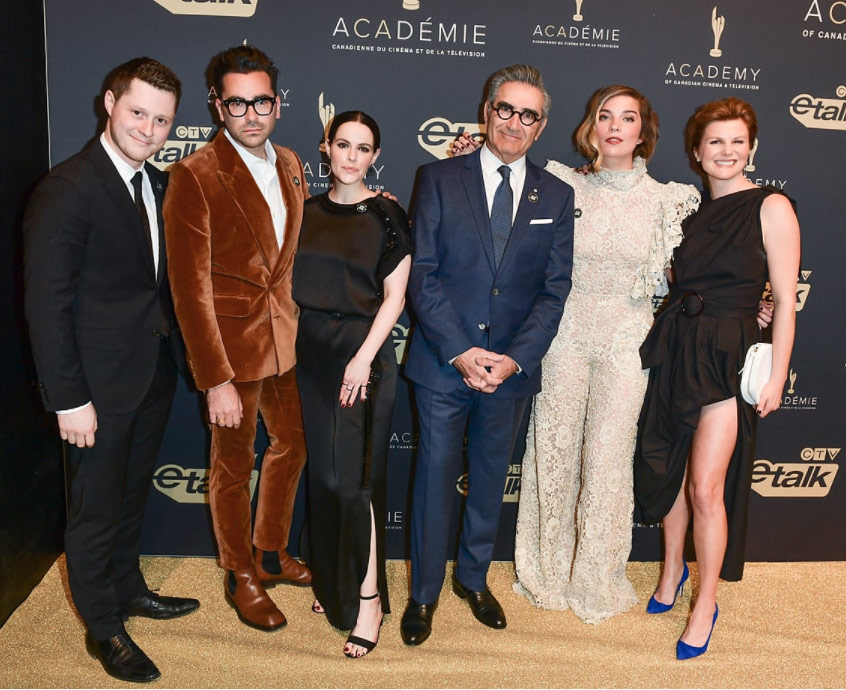 March 8, 2018 | 1 Comment
Check out which actors and shows won during the second night gala of the 2018 Canadian Screen Awards, held last night at Toronto's Westin Harbour Castle.
---