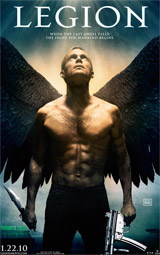 In the new action packed thriller Legion, God loses faith in mankind and sends his legion of angels to bring on the Apocalypse. Paul Bettany plays Michael, a gun-toting archangel who defies God by siding with humanity, and fights alongside a group of strangers trapped in a desert diner.
This is a Paul Bettany we haven't yet seen on the big screen. He jumped at the chance to play a character like Michael, and was grateful that he was able to get in shape for the role–and get paid for it!
Tribute's Bonnie Laufer spoke with Bettany and his Legion castmates in Los Angeles about this startlingly original and terrifying vision of the Apocalypse.