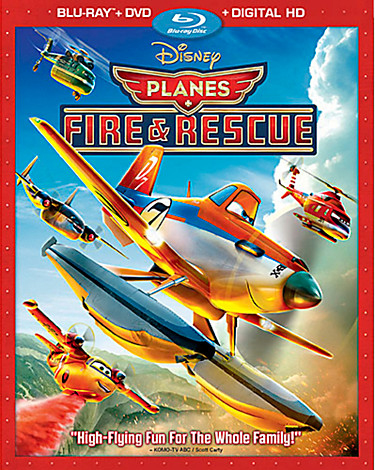 In the new Blu-ray/DVD release Planes: Fire & Rescue, out today, world famous air-racer Dusty has discovered that his failing engine could terminate his career, so he turns to the firefighters at the historical Piston Peak National Park to train him in aerial fire fighting. The sudden change in heart and lifestyle comes after Dusty accidently starts a fire that the safety trucks cannot handle. Aging fire truck Mayday stresses that the Propwash Junction needs to update their fire protection.
At Piston Peak, Dusty joins the veteran group with hopes of becoming a Single Engine Air Tanker (SEAT). Dusty trains under Blade, a tough helicopter. As a result, Dusty feels compelled to hide the faults in his engine. He also catches the attention of Dipper, a water-scooping plane on the team. Smokejumpers Blade Ranger and Dipper teach him how to navigate dangerous wildfires and become a true hero, no longer paralyzed by his fear of heights.
Bound to captivate audiences young and old, the star-studded cast includes Dane Cook as Dusty, Ed Harris as Blade, Julie Bowen as Dipper, Teri Hatcher as Dottie and Regina King as Dynamite. With a cast of comedians, it's no doubt that the film is laced with adult humor that keep parents content while their kids enjoy the plot.
The sequel to the widely successful Planes took four years to produce, with many of the animated scenes completed prior to the first installment. Dane Cook, who is best known for his stand-up comedy, raves about the evolution of his character, besotted with the idea of Dusty undergoing emotional and physical changes from his time in the first film.
The Blu-ray features extended clips; deleted scenes; an exclusive animated short titled Vitaminamulch: Air Spectacular; a virtual tour of Piston Peak and a music video for Spencer Lee's "Still I Fly." Adults will also enjoy the extensive research commentary that goes into describing the inspiration and techniques that go into making the characters come alive. Also available for home release today are: Maleficent, Hercules, Step Up All In, A Most Wanted Man and White Collar: The Complete Fifth Season. For a full list of DVDs, click here. ~Nadira Chand