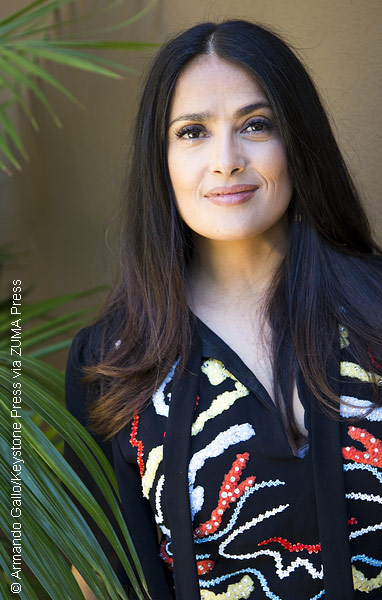 Salma Hayek has decided to finally speak up about the abuse she experienced at the hands of disgraced movie mogul Harvey Weinstein. In a New York Times op-ed titled Harvey Weinstein is My Monster Too, she describes how she went to Weinstein to negotiate a deal for Frida (2002), a movie about artist Frida Kahlo, which Salma would star in and produce. He offered her minimum scale plus 10 percent for her starring role and no pay for producing.
A star in her native Mexico since her early 20s, she wrote that because she was relatively unknown in the U.S. at the time, "I did not care about the money; I was so excited to work with him and [Miramax]. In my naïveté, I thought my dream had come true."
However, she soon learned his true nature and revealed, "I don't think he hated anything more than the word "no."
She recounts all the times she said no to him: "No to opening the door to him at all hours of the night, hotel after hotel, location after location, where he would show up unexpectedly, including one location where I was doing a movie he wasn't even involved with. No to me taking a shower with him. No to letting him watch me take a shower. No to letting him give me a massage. No to letting a naked friend of his give me a massage. No to letting him give me oral sex. No to my getting naked with another woman. No, no, no, no, no … And with every refusal came Harvey's Machiavellian rage."
She says when he realized she wasn't going to give in to his demands, he told her, "I will kill you, don't think I can't."
With the help of her friends, including Antonio Banderas, Edward Norton and Ashley Judd, she was able to get the film produced, but she wrote that she believes she escaped being raped by Weinstein because of her friendships with directors Robert Rodriguez and Quentin Tarantino, as well as George Clooney.
Frida went on to win two Oscars, and Salma received a nomination for Best Actress in a Leading Role (despite Weinstein criticizing her acting during filming). Salma reveals she had a contract with Weinstein, who never offered her a leading role again — instead, he cast her in minor roles for the duration of the contract.
She concluded her op-ed with this: "I am grateful for everyone who is listening to our experiences. I hope that adding my voice to the chorus of those who are finally speaking out will shed light on why it is so difficult, and why so many of us have waited so long. Men sexually harassed because they could. Women are talking today because, in this new era, we finally can." ~Alexandra Heilbron