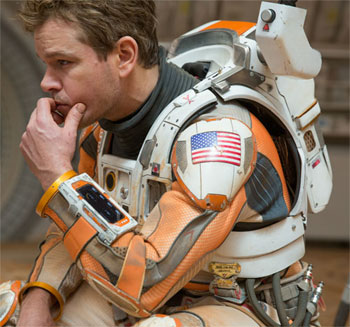 This weekend saw four new movie releases, but even so, it wasn't enough to push The Martian out of the top spot. The movie continued its winning streak at the box office, remaining number one for the second week in a row. This now makes four out of five weekends at the top. It brought in an additional $11.4 million, raising its total domestic haul to a whopping $182.8 million. Is it the great ensemble cast or the premise of the film that continues to draw audiences? Whatever the reason, it is still a crowd pleaser. Tribute.ca viewers gave it a rating of 4 stars.
It's a repeat performance for Goosebumps as well. It managed to hold its second place showing at the box office and brought in another $10.2 million. These two movies play to different audiences. Maybe that's why no other movie could break into the top two at the box office. Tribute.ca viewers continue to rate it 4 stars.
Holding in third spot was Bridge of Spies. It opened in an additional 62 theatres this weekend and its box office sales were $8.1 million. Director Steven Spielberg enjoys good working relationships in Hollywood. This is his second collaboration with the Coen brothers. They co-wrote the screenplay for this film while Spielberg was the executive producer for their film True Grit. Tribute.ca viewers love this movie and have given it a perfect rating of 5 stars.
Hotel Transylvania 2 moves up a notch from fifth to fourth spot this weekend, boosting its earnings with an additional $5.8 million. Some trivia to note: this is Adam Sandler's first animated sequel, and the third film he has done with Andy Samberg, the others being That's My Boy (2012) and Hotel Transylvania (2012). Tribute.ca viewers rated it 4 stars.
Rounding out the top five at the box office this weekend was the Bradley Cooper flick, Burnt. While it opened in wide release, it brought in a mere $5.0 million. As one of the lowest opening weekends for Bradley, we could say he got burnt. Perhaps people prefer him with a hangover to a chef's hat. Tribute.ca viewers rated this film only two stars. ~Sharon Salsberg