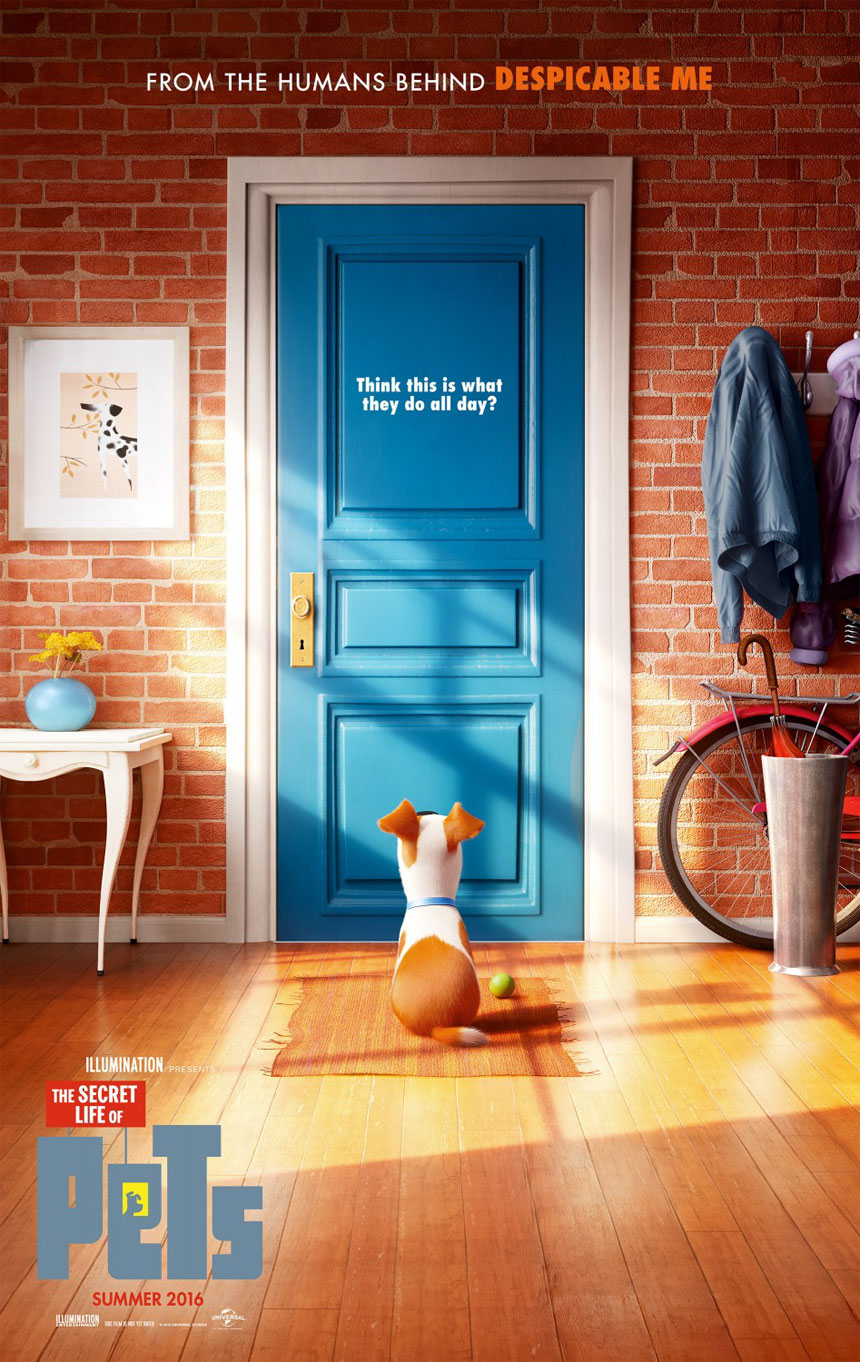 This week's top trailers found The Secret Life of Pets was the most-viewed trailer on our site, while The Legend of Tarzan stayed in second place for the second consecutive week. In third place was Mike and Dave Need Wedding Dates starring Zac Efron, followed by Steven Spielberg's The BFG holding out in fourth for the second consecutive week. Last but certainly not least was Central Intelligence. ~ Yanis Khamsi 
Check out the top trailers below:
1) The Secret Life of Pets
2) The Legend of Tarzan
3) Mike and Dave Need Wedding Dates
4) The BFG
5) Central Intelliegnce
The Secret Life of Pets – In Manhattan, Max (voice of Louis C.K.) is enjoying his life as his owner Katie's (voice of Ellie Kemper) best pal in the comfortable apartment building where they live together. He loves her so much that he sits by the door, just waiting for her to come home each day. One day, his life is turned upside down when his human brings home a sloppy mongrel named Duke (voice of Eric Stonestreet). When their dog walker loses Max and Duke and they're captured by Animal Control, they run into a bad little bunny named Snowball (voice of Kevin Hart) and his gang of unwanted pets, while Max's friends, especially Gidget (voice of Jenny Slate), who has a crush on him, hit the streets in an effort to rescue them. The Secret Life of Pets is the story of the rescue effort, all while avoiding the suspicion of their owners.
The Legend of Tarzan – Years after he left the jungles of Africa behind, Tarzan (Alexander Skarsgård), now known as John Clayton, a.k.a. Lord Greystoke, is living a comfortable life in England with his wife, Jane (Margot Robbie). When he's invited back to the Congo to serve as a trade emissary of Parliament, he initially turns down the invitation, but is soon convinced to go, unaware that he's a pawn in a deadly convergence of greed and revenge, masterminded by Leon Rom (Christoph Waltz), who will do anything to get his hands on the diamonds of Opar. The Legend of Tarzan is based on the Tarzan series of books by Edgar Rice Burroughs.
Mike and Dave Need Wedding Dates – Hard-partying brothers Mike (Adam DeVine) and Dave (Zac Efron) are told by their father that they need to find suitable dates for their sister's upcoming Hawaiian wedding. In an effort to please their father and show their family they can secure respectable dates, they place an ad online looking for a couple of nice women. The ad reaches The Wendy Williams Show and Tatiana and Alice (Aubrey Plaza, Anna Kendrick) see it. In Mike and Dave Need Wedding Dates, the out-of-control girls decide to respond and trick the brothers into thinking they're polite and composed. But once the girls reach Hawaiian shores, the unsuspecting men realize they've been out-smarted, and will soon be out-partied.
The BFG – A little girl named Sophie (Ruby Barnhill) who lives in an orphanage is drawn to the window one night, where she witnesses a massive, frightening creature outside. She runs away from the window and hides under her covers, but is plucked from her bed by a monstrously huge hand. This starts her on her journey with The Big Friendly Giant (Mark Rylance), who is an outcast because he refuses to eat boys and girls, and the Queen of England (Penelope Wilton). They try to capture the giants who have been eating people and terrorizing the human world to stop them before they hurt anyone else. The BFG is based on the children's novel by Roald Dahl.
Central Intelligence – Bob Stone (Dwayne Johnson), a former geek turned lethal CIA agent, returns home for his high school reunion. Claiming to be on a top secret mission, he enlists the help of former "big man on campus"-turned-accountant Calvin (Kevin Hart), who misses his glory days. Before he realizes what he's gotten himself into, it's too late for Calvin to back out. Central Intelligence is the story of a domestic number-cruncher being dragged through an unpredictable world of deadly shoot-outs and espionage.