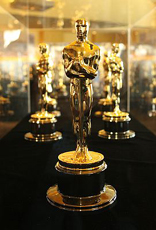 With Oscar fever taking over Hollywood, have you had a chance to watch any, if not all, of the Best Picture trailers? Whether it's Michael Keaton taking over the superhero garb, Benedict Cumberbatch mastering the role of a genius mathematician or Eddie Redmayne channeling Stephen Hawking, these trailers will tell you why they are the chosen frontrunners for 2014. These eight films garnered the attention of film critics and were unveiled as the Academy Award nominees last week. Check out these trailers and tell us which one gets your vote.
American Sniper trailer: Texas native Chris Kyle (Bradley Cooper) becomes a Navy SEAL, and during his time in the service, records the highest number of sniper kills for an American—more than 150 confirmed kills. Meanwhile, his wife slowly watches as her husband's affection turns from her to the SEALS and the war. Based on the memoir by Chris Kyle.

Birdman trailer: Washed-up actor Riggan Thomson (Michael Keaton), who became famous for playing an iconic superhero in the movies, decides to stage a comeback in a Broadway play. Pressures mount leading up to the play's opening night as Riggan battles his ego and tries to win back his family, at the same time re-establishing his career and finding himself in the process.

Boyhood trailer: In 2002, Richard Linklater cast a six-year-old boy to play a child named Mason (Ellar Coltrane). Using the same cast from start to beginning, Linklater wrote and directed this groundbreaking story of a little boy growing from six to 18 before our eyes. We watch as he goes through the ordinary passages of boyhood, from learning how to play football and riding a bicycle, to more complicated things such as discovering girls, trying alcohol and discovering what he wants to do with his life.

The Grand Budapest Hotel trailer: THE GRAND BUDAPEST HOTEL recounts the adventures of Gustave H (Ralph Fiennes), a legendary concierge at a famous European hotel between the wars, and Zero Moustafa, the lobby boy who becomes his most trusted friend. The story involves the theft and recovery of a priceless Renaissance painting and the battle for an enormous family fortune — all against the backdrop of a suddenly and dramatically changing continent.

The Imitation Game trailer: Alan Turing (Benedict Cumberbatch), a brilliant Cambridge mathematician, cryptanalyst and computer scientist, is enlisted by his country during World War II to break the Nazi Enigma code, and is later persecuted by the government in 1952 for being homosexual. Based on the book Alan Turing: The Enigma by Andrew Hodges.

Selma trailer: The story of Dr. Martin Luther King Jr.'s (David Oyelowo) historic struggle to secure voting rights for all people – a dangerous and terrifying campaign that culminated with the epic march from Selma to Montgomery, Alabama, and led to President Lyndon B. Johnson (Tom Wilkinson) signing the Voting Rights Act of 1965.
The Theory of Everything Trailer: As a young man at school, it was already clear that Stephen Hawking had an exceptional mind. Having won a scholarship to the University of Oxford, his future looked extremely bright. Going on to Cambridge, he meets and falls in love with Jane Wilde, and the two become engaged. Stephen begins to have health problems and discovers he has a debilitating motor neuron disease known as ALS. Given two years to live, he's understandably devastated. As Stephen's health problems become apparent to all, Jane insists they get married anyway. She helps him in every way possible, becoming his fulltime caregiver. Stephen, who authors the bestselling book A Brief History of Time, becomes a renowned astrophysicist. Overwhelmed by her role of mother to two small children as well as being Stephen's only caregiver, when her husband falls ill and the doctor recommends that he be taken off life support, Jane doesn't hesitate when making her decision. Based on Jane Hawking's memoir, Travelling to Infinity: My Life with Stephen.

Whiplash trailer: An ambitious young drummer (Miles Teller) enters a prestigious music academy to fulfill his dream of becoming one of the greatest known drummers. When a harsh, ruthless instructor (J.K. Simmons) determined to make him realize his full potential pushes him to the limit, his life and his relationships fall into a tailspin.