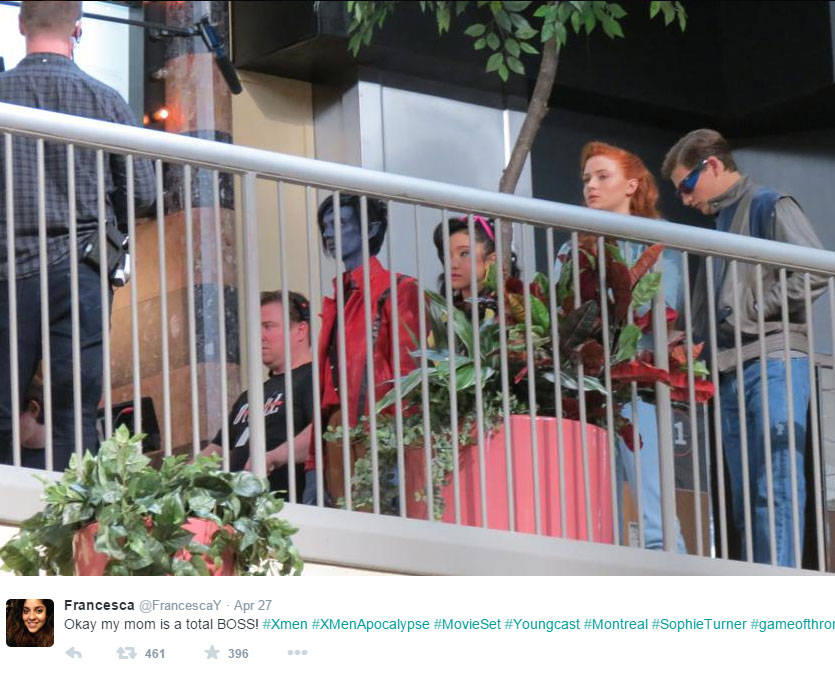 X-Men Apocalypse has finally begun shooting in Montreal and a set photo has been released on Twitter (shown here) by fan @FrancescaY, whose mother took this image of Nightcrawler (Kodi Smit-McPhee), Cyclops (Tye Sheridan), Jean Grey (Sophie Turner), and Lana Condor as Jubilee shooting at a mall. X-Men Apocalypse hits theatres May 27, 2016.
Common is the newest name to be added to the cast of Suicide Squad. The Academy Award-winning Chicago emcee is an accomplished actor in his own right. At the moment it's unknown whom he will play so we'll have to stay tuned for details.
Nightcrawler actor Riz Ahmed is at the head of the list for lead male in Star Wars: Rogue One. The film is being directed by Gareth Edwards and Ben Mendelsohn will star as the main villain. Ahmed's chemistry with actress Felicity Jones, who plays a rebel soldier, is what has set him apart from the pack. The movie is set to release in December 2016.
Maika Monroe, star of the horror film It Follows, has secured the lead in the sequel to Independence Day. Other names associated with the project include some new faces and some from the original. Liam Hemsworth, Charlotte Gainesbourg and Jessie Usher join the cast while Jeff Goldblum, Bill Pullman and Judd Hirsch reprise their original roles. Maika will play the daughter of the president and love interest to Liam's character.
Deadpool screenwriters Rhett Reese and Paul Wernick are adapting Thomas Oliver's book, The Real Coke, The Real Story, into a feature film showcasing the rivalry between Pepsi and Coke during the '80s that caused them to change their secret formula. The pair put up their own money but it is not yet confirmed whether a studio has picked it up.
Actor Daniel Brühl confirms he will play the villainous Baron Helmut Zero in Marvel's Captain America: Civil War. The movie, which is the third installment in the trilogy, is set to start production later this month. Brühl said in an interview, "I think I can tell you that without being thrown into Marvel prison. For the first few days I'll walk around like a little boy, just amazed by the megalomania of it. It's such a huge project. We could do 20 films with the budget."
A Full House biopic movie is being planned at Lifetime. With the success of the Saved By the Bell biopic, Lifetime is again looking to go behind the scenes to tell the story of one TV's most well-known sitcom families. The movie will focus on the rise of the cast members and the pressures they faced both in and out of the studio. At this time no premiere date has been set and no cast members have been announced.