What's New on Netflix Canada – August 2019
By Marriska Fernandes on July 24, 2019 | Leave a Comment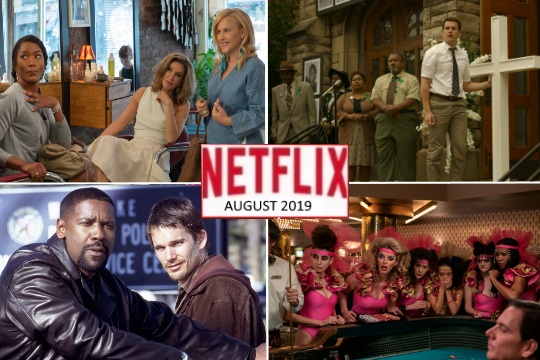 With the heat in full swing, watching something new (or old) on Netflix is always a good option as you cool down with an Aperol Spritz.
In August, Netflix has a wave of original series returning to woo fans, as well as some interesting films to keep you entertained. Get ready to turn up the heat this summer!
Originals
Dear White People: Volume 3 returns with the main cast as they reprise their roles, and continue to navigate the politics at their Ivy League school.
New original film Otherhood follows three mothers (Patricia Arquette, Felicity Huffman, Angela Bassett) as they drive to NYC to surprise their adult sons, who might have forgotten that it's Mother's Day. Whoops.
Season two of Mindhunter will once again take a look at the Behavioral Science Unit, this time as they address the real-life events of '79-'81, two years after season one. It will focus on the Atlanta child murders as they start their high-profile hunt for a serial child murderer.
Season three of GLOW is back! As the gang kicks off a run of shows in glamorous Las Vegas, power struggles and shifting priorities threaten their bond.
Thrills
If you love a good thriller, this month there are a few options to leave you petrified. Kidnap, starring Halle Berry, follows what happens when a mother experiences every parent's worst nightmare. While in the park with her young son Frankie, she's on her phone when she realizes a woman has taken him and is putting Frankie in her car. When the police aren't too helpful, she goes on a relentless pursuit to find the kidnapper.
Oscar-winning film The Girl with the Dragon Tattoo follows discredited journalist Mikael Blomkvist (Daniel Craig) and computer hacker Lisbeth Salander (Rooney Mara), who are hired to solve a long unresolved family disappearance. The two uncover a dark world of deception and ritualistic murder. Did we get your attention now?
Action-Packed
Oscar-winning film Training Day is one you can't pass on. The film stars Ethan Hawke as Jake Hoyt, who gets himself re-assigned to the narcotics division of the LAPD, but he only has one day to prove himself worthy of this world of undercover police investigation. Along with his trainer, Detective Sergeant Alonzo Harris (Denzel Washington), the two risk life and career to serve justice.
Christopher Nolan's World War II drama Dunkirk follows Allied soldiers from Britain, Belgium and Canada who find themselves trapped on the beach of the French coastal town of Dunkirk as they face an impossible crisis.
Of course, comic book fans will love catching up on Avengers. Avengers: Age of Ultron will also stream on Netflix in August. Maybe have an Avengers marathon this summer?
All the Feels
Let your emotions run wild with some heartfelt dramas. First up is My Sister's Keeper. Bring Kleenex for this one! The film follows Anna Fitzgerald (Abigail Breslin), who was conceived as a marrow donor for her gravely ill sister. But after countless surgeries and medical procedures, she decides to sue her parents for emancipation. The film chronicles the family's devastating journey with the trial.
If that was too much drama, how about something light like Bridget Jones's Diary? Based on the bestselling novel by Helen Fielding, this is a story of a year in the life of a single British woman (Renée Zellweger) in her 30s who works in the publishing industry.
If you're in the mood for a rom-com, a time travel theme sounds about right. About Time follows Tim Lake (Domhnall Gleeson), who has the ability to go back to any moment and live it over and over again until he gets it "right." He decides to go back in time to see if he can win the girl of his dreams (Rachel McAdams). If only we could get it right the first time, amirite?
Family-Friendly
An adorable family-friendly film you can enjoy is Willy Wonka & the Chocolate Factory, because it's a classic. No questions asked. We'd also recommend The Smurfs, a cute film that the little ones can enjoy while you sip on sangria.
Have a super splashing summer! ~Marriska Fernandes
Here's everything coming to Netflix in August. Scroll below to see what's leaving as well.
August 1
Bad Teacher
Battle: Los Angeles
Catch and Release
Journey 2: The Mysterious Island
Jungle
Kidnap
Logan Lucky
The Chef's Line: Season 1
The Girl with the Dragon Tattoo
The Mummy
The Smurfs
Training Day
August 2
Ask the StoryBots: Season 3 – Netflix Family
Basketball or Nothing – Netflix Original
Dear White People: Volume 3 – Netflix Original
Derry Girls: Season 2 – Netflix Original
Otherhood – Netflix Film
Overlord
She-Ra and the Princesses of Power: Season 3 – Netflix Family
August 4
Patriot Act with Hasan Minhaj: Volume 4 – Netflix Original
August 5
Enter the Anime – Netflix Original
The LEGO Ninjago Movie
No Good Nick: Part 2 – Netflix Family
August 7
About Time
Apollo 13
Avengers: Age of Ultron
Being John Malkovich
Blue Crush
Friday Night Lights
In Good Company
Ray
Take Me Home Tonight
The Wizard
August 8
Dollar – Netflix Original
The Naked Director – Netflix Original
Wu Assassins – Netflix Original
August 9
Cable Girls: Season 4 – Netflix Original
The Family – Netflix Original
GLOW: Season 3 – Netflix Original
The InBESTigators – Netflix Family
Rocko's Modern Life: Static Cling – Netflix Family
Sintonia – Netflix Original
Spirit Riding Free: Pony Tales – Netflix Family
Tiny House Nation: Volume 1
August 10
Bon Cop Bad Cop 2
August 12
Dunkirk
August 13
Tiffany Haddish Presents: They Ready – Netflix Original
August 15
Bridget Jones's Diary
Cannon Busters – Netflix Anime
My Sister's Keeper
Willy Wonka & the Chocolate Factory
August 16
45 rpm – Netflix Original
Apache: La vida de Carlos Tevez – Netflix Original
Better Than Us – Netflix Original
Diagnosis – Netflix Original
Frontera verde – Netflix Original
Instant Family
Invader Zim: Enter the Florpus – Netflix Family
The Little Switzerland – Netflix Film
Mindhunter: Season 2 – Netflix Original
QB1: Beyond the Lights: Season 3 – Netflix Original
Sextuplets – Netflix Film
Super Monsters Back to School – Netflix Family
Victim Number 8 – Netflix Original
August 20
Here Comes the Boom
Simon Amstell: Set Free – Netflix Original
The Sinner: Julian
August 21
American Factory – Netflix Original
Hyperdrive – Netflix Original
August 22
How to Get Away with Murder: Season 5
Love Alarm – Netflix Original
August 23
El Pepe: Una vida suprema – Netflix Original
The Girl with All the Gifts
HERO MASK: Part II – Netflix Anime
August 26
Blade Runner 2049
August 27
Million Pound Menu: Season 2 – Netflix Original
Trolls: The Beat Goes On!: Season 7 – Netflix Family
August 29
Falling Inn Love – Netflix Family
Kardec – Netflix Film
August 30
The A List – Netflix Original
Carole & Tuesday – Netflix Anime
The Dark Crystal: Age of Resistance – Netflix Original
Droppin' Cash: Season 2 – Netflix Original
The Glass Castle
La Grande Classe – Netflix Film
Mighty Little Bheem: Season 2 – Netflix Family
Styling Hollywood – Netflix Original
Un bandido honrado – Netflix Original
Vis a Vis: Season  – Netflix Original
August 31
Flatliners
LAST CALL
August 1
Back to the Future
Back to the Future Part II
Back to the Future Part III
E.T. the Extra-Terrestrial
Schindler's List
Shrek
Snow White & the Huntsman
The Huntsman: Winter's War
The Lego Batman Movie
The Only Way Is Essex: Season 18
The Only Way Is Essex: Season 19
August 6
Jaws
Jaws 2
Jaws 3
Jaws: The Revenge
Jay and Silent Bob Strike Back
August 9
Baywatch
---
---
---
Similar Articles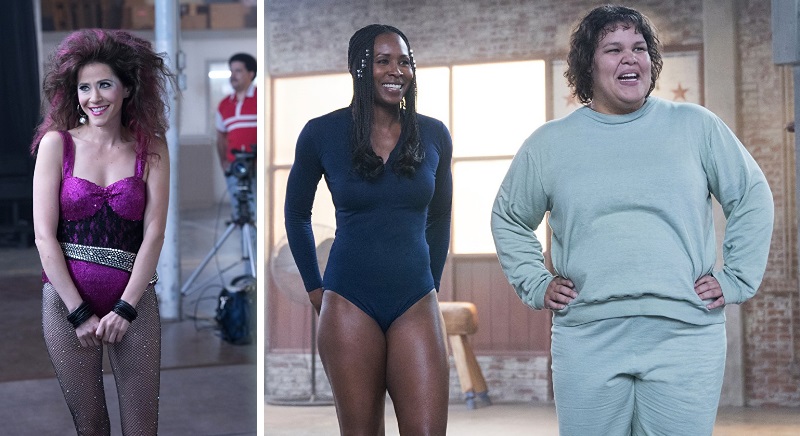 July 12, 2018 | 1 Comment
We chatted with GLOW stars Jackie Tohn, Britney Young, Sydelle Noel about wrestling, the current #MeToo climate and what viewers can expect in season two.
---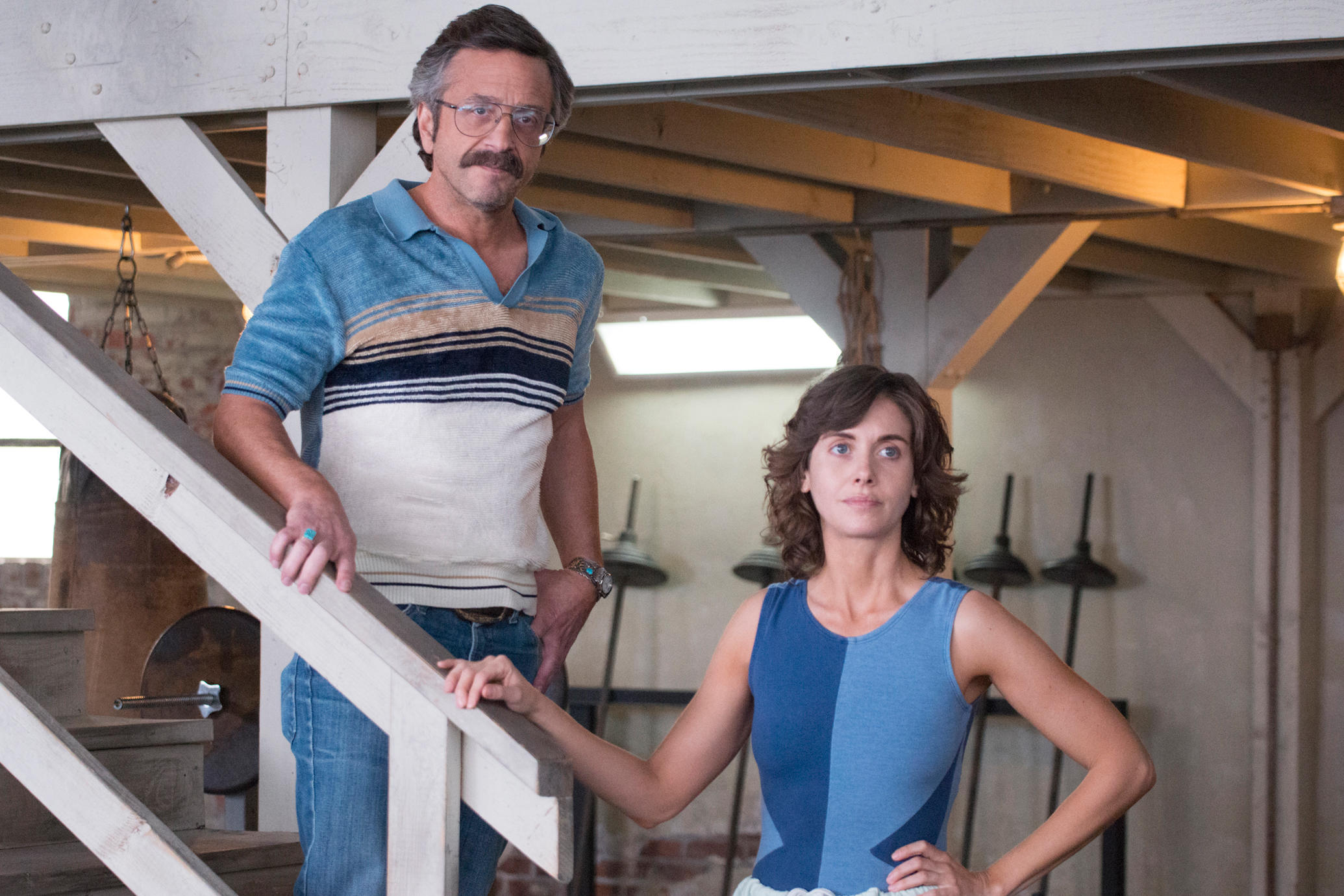 June 21, 2018 | Leave a Comment
With season two of GLOW returning to Netflix, we chatted with Alison Brie and Marc Maron about how relevant the show is given the current #MeToo climate.
---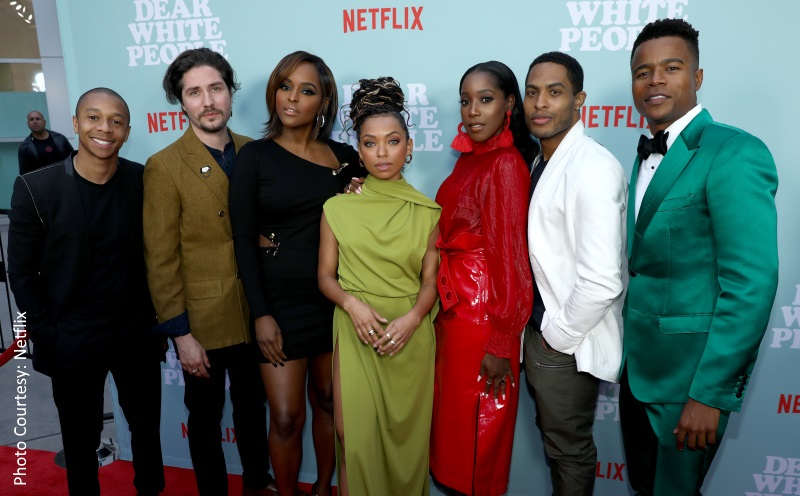 May 31, 2018 | 1 Comment
Dear White People's John Patrick Amedori, Ashley Blaine Featherson, Logan Browning, Marque Richardson, Brandon P. Bell and Antoinette Robertson talk season 2.
---