What if you didn't need a time machine to leap back and forth through time? It may sound like a dream come true, but for Henry DeTamble (played by Eric Bana) in The Time Traveler's Wife, his ability to time travel is more of a curse than a gift.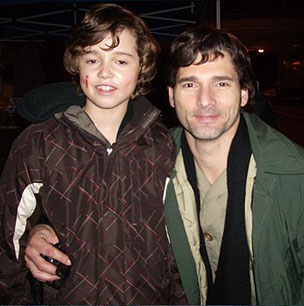 As a child, Henry is not like the other boys his age. Since the age of five, he has had a rare genetic disorder that causes him to travel through time to different periods in his life. But Henry can neither control when he leaves, nor where he goes. His time travel complicates things further when he falls in love with Clare Abshire (Rachel McAdams), whose past and future have been entwined with Henry's for as long as she can remember. Canadian actor Alex Ferris will plays a young version of Henry DeTamble in the film, which is adapted from Audrey Niffenegger's best-selling novel of the same name.
On the set of the film, Ferris was in awe, sharing scenes with Eric Bana. Of his first encounter with Bana, Ferris says, "It was really funny to meet him because he would come in and out of his Australian accent…but right when the cameras were rolling he got a flawless American accent!"
For the movie, which was filmed in Toronto, Ferris had to make the cross-country trip to Ontario. Although the Vancouver native confessed that it was cold during filming, he still had a blast on set and enjoyed the change of scenery. "Traveling across Canada was great! [My family] usually travels to places in Europe; I don't usually go places in Canada, but it was a really great experience to get to know my country better," he says.
Acting only for five years, Ferris has already nabbed roles in X-Men: The Last Stand and next year's comedy, Tooth Fairy with Dwayne Johnson, Ashley Judd, and Billy Crystal. And with two Young Artist award nominations under his belt, this up-and-coming star is one to watch out for.