Graham Greene Biography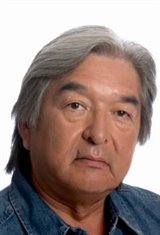 Born: June 22, 1952

Date of Birth: June 22, 1952
Born on a reserve in Brantford, Ontario, this Oneida Indian never thought about the acting profession during his youth. While working as a audio technician for a Canadian rock band, one of his co-workers encouraged him to try out the art. Greene was indifferent to the idea, until losing a game of cards to which he put his future career on the line.
He attended The Centre for Indigenous Theatre's Native Theatre School program to try out his acting chops. After graduating in 1974, he started landing small roles in television, film and radio. He then crossed the pond to work on the London stage for a few years.
Greene returned to Canada in the mid-1980s where he picked up his first major feature film credit, the historical epic, Revolution, opposite Al Pacino. Five years later, he landed the role of Kicking Bird in Kevin Costner's Dances with Wolves (1990). The part not only provided him with major exposure around the world, it garnered him an Academy Award nomination for Best Supporting Actor.
With the door to the acting world wide open, Greene took advantage taking major roles in films like Thunderheart (1992), Maverick (1994), Die Hard: With a Vengeance (1995), Camille (1995), and The Green Mile (1999).
Greene has also made a significant contribution to the small screen with regular gigs on the series The Red Green Show, Northern Exposure, Lonesome Dove: The Series, The Adventures of Dudley the Dragon, Wolf Lake and narrating the Discovery Channel's Exhibit A series. He also appeared as the sole survivor of a pre-WW1 Indian tribe in the telefilm, The Last of His Tribe in 1992.
In 1992, he was honored with a Lifetime Achievement Award by the Southwest Museum in Los Angeles, one of the nation's pre-eminent museums dedicated to the culture of Native Americans. In 2002, he won the Best Actor Award for his role in Skins at the Tokyo International Film Festival. In his native Canada, he has been nominated three times for Gemini awards and in 2004 he was honored with the Gemini's Earle Grey Award.
He then went on to star in projects such as The Twilight Saga: Breaking Dawn - Part 2 (2012), the drama Winter's Tale (2014) with Colin Farrell and Russell Crowe, The Shack (2017) with Sam Worthington and Molly's Game (2017) alongside Jessica Chastain.
Graham also played a recurring role as Malachi Strand on the western crime drama series Longmire from 2014 to 2017. His most recent feature film appearance was in Astronaut (2019), starring Richard Dreyfuss.