The Dark Knight - User Reviews
Thank you for rating this movie!
Read your review below. Ratings will be added after 24 hours.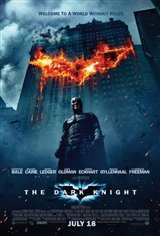 4.37 / 5
User Rating
Based on 8258 votes and 732 reviews
---
Please rate movie 1 to 5 stars
Showing 1 to 50 of 732
June 13, 2020
Just amazing
February 02, 2018
I like this more realistic version of Batman much more than that comic one. Ledger´s Joker is perfect! It´s dark and it forces you to think about morals and corruption in our society. Hey, the reviewer under me, NOONE SAID IT IS FOR CHILDREN!
August 24, 2017
Dark, depressing, and sordid. Do not take children to this show.
October 04, 2014
THE BEST SUPERHERO ACTION EVER PUT TO FILM!
February 11, 2013
Second film in the Hatman trilogy doesn't match the heights of the original, but entertains all the same.
January 12, 2013
One of the best movies I've ever seen in all time beat batman movie ever crazy awesome wicked amazing super it's remarkable in every way it's like nothing you've ever seen before a masterpiece brilliant in every way!!!!!!!!!!!!!!!!
January 12, 2013
THE BEST BATMAN MOVIE IN THE WORLD
December 22, 2012
The best movie in the WORLD!!!! It is remarkable in every way you have. Never seen anything like it The best batman movie in the whole World!!!!!!!!!!! The best trilogy ever!!!!!!!!!!!!!! I loved this movie it was. Fantastic!!!!!!!!!!!!!!!!!!!!!!!!!!!!!!!!!!
September 30, 2012
My favourite film of the year so far! Would love to see a third one!
September 11, 2011
One of the best movies I've ever seen!
February 04, 2011
the best movie in the world who thinks this movie suck does not know anything about batman
January 29, 2011
the dark knight is the second best superhero movie i've ever seen right next to spider-man 3!!!!!
November 15, 2010
AWESOME!!!!
July 08, 2010
best movie ever, and i mean it! heath ledger was perfect, the acting was perfect, the effects was perfect, the sound was perfect, the plot was perfect, just everything was perfect! nothing wrong with this movie!
December 15, 2009
One of tbe best movies ever. Heath Ledger was so evil in the most convincing way. Christian Bale is the best Batman by far!
August 12, 2009
Aamaaazzinnnggg
July 16, 2009
An excellent movie. Heath Ledger's performance was superb. The other actors also performed formidably. 5 stars.
May 14, 2009
One of the greatest movie ever made in the world's filming history!
May 14, 2009
The best Action film that has ever been done for decades! Definitely a 5 Stars movie!
May 13, 2009
Heath deserved that Oscar. RIP my good friend. I loved his laugh when I saw the trailer.
March 01, 2009
I LOVED IT!
February 20, 2009
joker rules r.i.p heath ledger
January 30, 2009
the greatest film ever
January 27, 2009
best movie ever
January 27, 2009
I hope Heath Ledger Gets the Oscar for this role. Not because he died but because he emersed himslef so much into the Joker psyche that it killed him.
January 16, 2009
love the joker and My prayers to heath ledger
January 01, 2009
BestMovie of all time[:
December 21, 2008
Still as I remember at the summer SICK MOVIE!
December 20, 2008
really really good you should watch it!
December 16, 2008
This is one of THE BEST MOVIES I HAVE EVER SEEN.But it is very very sad that Heath Ledger die:).If they make a another movie of batman and the joker is in it. It is not going to be the same he is the one that makes the joker the joker. The thing that i would do is just put the joker in an high prison place so know one can get him and he can not get out.That what they should do. But if they make it like that then I will still see it. May Heath Ledger R.I.P. To the people who have not seen this movie GO SEE IT GO GO GOOOOOOOOOOOOOOOOOO. 5/5 Stars. :)
December 15, 2008
This movie is coming back to theaters in January so don't buy the dvd!!!
December 14, 2008
this is the best movie ever needs an oscar and heath ledger needs to win best saporting actor for an oscar.
December 14, 2008
One word...AMAZING!!!
December 13, 2008
I loved it, can't wait to see the next ones coming
December 13, 2008
HEALTH LEDGER IS THE BEST JOKER EVER!!!!!!!!!!!
December 10, 2008
BEST MOVIE IVE SEEN IN A LONG TIME!!!!!!!
November 29, 2008
outstanding, heath ledger was unbelievable
November 26, 2008
it was good but to long it felt like it went on for ever there was 3 places i thought it would end but it was good and Heath ledger was very good in this movie i thought it would be more on the Jokers life and life story more but was still good
November 22, 2008
I LOVED IT :D GREAT MOVIE UI WOULD PAY TO SEE IT OVER AND OVER AGAIN
November 21, 2008
An amazing movie, because of Heath Ledger. He made this movie great and he did a terrific job as the Joker. We lost a really great and talented actor.
November 17, 2008
All Star cast great action from beginning to end. would like to see how they are going top this last movie.
November 15, 2008
it is like totally wicked awesome radical tubular this is like the best like movie like i'v like ever seen!!!!!!!!!!!!!!
November 04, 2008
Now This Is What Im Talking About
November 01, 2008
long and boring
October 25, 2008
to whoever thinks this movie sucked... what are you smoking this the best movie of 2008
October 25, 2008
Fantastic
October 23, 2008
Pure crap. Don't waste your money.
October 22, 2008
the movie was amazing one of the best performences by heath and the best comic book movie ever made
October 22, 2008
the movie the dark knight was very well played because of their ability to create a well thought out plot, special effects and the actors rols was very well played.
October 22, 2008
I LOVE THE DARK KNIGHT it rocks best movie ever