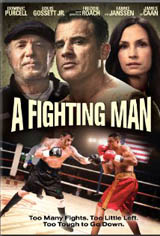 Writer/director Damian Lee creates an accessible and gritty film in A Fighting Man. The title says it all, with actor Dominic Purcell as former boxer Sailor O'Connor, who is wrestling with his past and his current circumstances and jumps at the chance when offered one last match. The DVD cover provides a simple but true view on Sailor and King Solomon's journey: "Too many fights. Too little left. Too tough to knock down." Each character's back story and connection to or appearance at the boxing match is slowly revealed during the film, culminating at the end of the match.
A Fighting Man starts off in the boxing ring with Sailor O'Connor and his opponent, young King Solomon (played by former So You Think You Can Dance Canada competitor Izaak Smith) facing off for Sailor's last match. Although Sailor has a reputation for never being knocked down, it's King who's favored to win and thus make his mark in the boxing world. As both opponents take hits and are in their corners with their coaches, Brother Albright (James Caan) and Cubby (Louis Gossett Jr.), the story turns to what brought the fighters and their coaches to the current match.
Sailor's past is full of struggle and abuse. His mother, played by Sheila McCarthy, is dying. Her final wish is to take a trip to Ireland with her son. When promoter Fast Eddie (Adam Beach) approaches Sailor with an opportunity to get back into the ring, he immediately takes it, then has to convince everyone else in his life that it's the right move for him. Director Lee creates realistic motivation for each character's choices and reactions.
Struggle is a part of most people's lives, which makes this movie accessible to non-sports fans as an emotional look at what drives us to take a beating, and yet refuse to fall down. A Fighting Man is also full of memorable performances by supporting actors Famke Janssen, Kim Coates and Jenessa Grant. Special Features: English Theatrical Trailer. Other movies available for home release today include: 300: Rise of an Empire, Enemy, Winter's Tale, Rob the Mob and Repentance. ~Andrea Hodgins