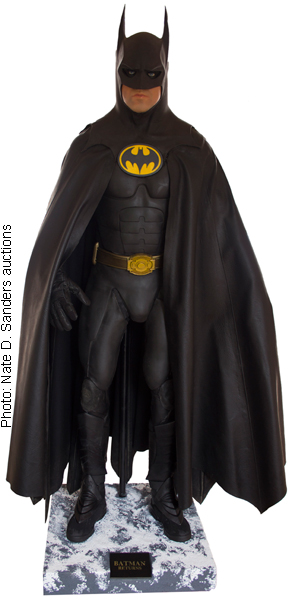 Someone with a bit of spare money to play with has treated themselves to a rather batty gift.
Entertainment Weekly reports that on Thursday (Jan. 26), a buyer purchased Michael Keaton's six-foot-tall Batsuit from Batman Returns (1992) for $41,250. The costume was sold at a Los Angeles auction through Nate D. Sanders Auctions.
The ensemble — including the iconic cape, leather gloves, boots, etc. — had a starting minimum bid of $33,000.
Michael played Batman in the two-time Oscar-nominated film, which was directed by Tim Burton. In the movie, he faces off against Catwoman (Michelle Pfeiffer) and Penguin (Danny DeVito).
It wasn't the first time he donned the superhero cape, though. Michael first played Gotham's protector in Batman (1989), also helmed by Tim Burton, in which he combated the Joker (Jack Nicholson).
At the same auction where Michael's Batsuit was sold, Christopher Reeve's blue tunic from Superman (1978) was also up for grabs, but it "failed to attract the minimum bid of $40,000."
Apparently, Batman won this battle.
If you think $41,250 is steep, consider this: Christian Bale's Batsuit, as worn in Batman Begins (2005), sold for a staggering $250,000 at an auction in September 2016.
What are your thoughts on Michael's Batsuit selling for over $40,000? If you had that sort of cash to spend, would you put it towards a costume?  ~Matthew Pariselli