Charlie Sheen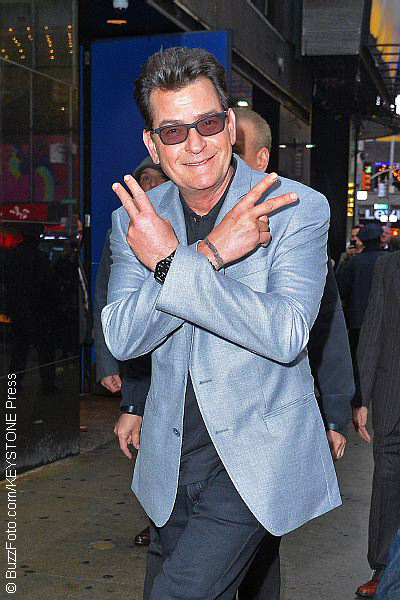 is claiming to know which other Hollywood A-listers are HIV-positive, but is vowing to keep that information private.
On Wednesday (March 22), the Golden Globe-winner was featured on The Kyle & Jackie O Show — an Australian breakfast radio program — and candidly discussed his own battle with HIV.
Then, when Jackie opened the topic and asked Charlie if there are other stars who are HIV-positive but "wouldn't dare come out and say it" as he has, the Two and a Half Men actor made an admission.
As reported by Page Six, the 51-year-old said, "There are, and I know who they are, but I will take that to my grave."
Charlie then turned the conversation to "the miracle drug" he's taking to keep healthy.
He shared, "Here's the absolute freaking irony — with the miracle drug that I'm on, this PRO-140, I am actually safer than most cats out there that profess to be on the tallest tree."
The Anger Management actor announced his HIV-positive status in November 2015.
Aside from their questions about the disease, Kyle and Jackie also inquired about whether any of Charlie's friends had ever tried to sell him on Scientology.
His response: "Yes, actually. There was one — and she's a dear friend of mine. It's Kelly Preston, who's married to John Travolta."
Once John's name was mentioned, the hosts asked what Charlie's thoughts were on John's sexuality. Rumors have spread in the past that John is gay and that he sexually assaulted a masseur.
Charlie diplomatically answered, "I have a new rule now: If I wasn't there, I can't possibly harbor an opinion."
The Daily Mail also states that during the telling interview, it was disclosed that Lady Gaga once offered Mr. Sheen a naked lap dance for an "X-rated video on MTV."
The video, however, was never shot.
What are your thoughts on how Charlie handled the question about other Hollywood stars being HIV-positive? Should the radio show hosts have even asked it? ~Matthew Pariselli