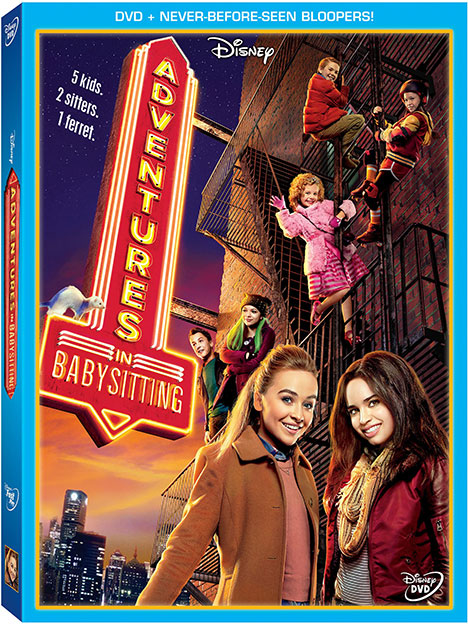 Did you ever think to yourself, "Babysitting is easy money"? Well, Disney Channel's original movie Adventures in Babysitting might have you thinking "Not so much."
This remake of the 1987 version of the same name centers around two finalists for a photography internship, one of whom is a reliable bookworm: Jenny Parker (Sabrina Carpenter), and the other, who's a bit of a rebel: Lola Perez (Sofia Carson).
The girls are different in absolutely everything from their bedroom decorating styles, to their cars, to their ringtones. The actresses even made sure to even differentiate their walking patterns, sitting styles, and body language.
The girls are qualified in different ways, as Jenny has superior grades, but Lola has more passion for photography. Of course, their personalities clash. Leon decides he's bored with the way he would normally choose his interns and decides he will chose only when one of them dazzles him.
After accidentally switching cellphones in the waiting area, Lola unknowingly answers a call on Jenny's cell from Helen Anderson (Gillian Vigman), who Jenny had earlier told she couldn't babysit for becuase she already having a different babysitting commitment that evening.
Lola, pretending to be Jenny, recommends who else, but herself, because she needs the money. After discovering what Lola has done and then finding out that Trey, one of the kids Lola was watching, has snuck out to see a concert, Jenny, Lola and the kids go on a mission to find him.
In order to fit all the children along with them, the girls use Helen's expensive van to drive them into the city, and get into numerous antics that have them running away from pawn shop thugs, in the middle of crazy chase scenes, having the car towed and then bemoaning the fact that they have "No car, no money, no Trey" while needing to find $100 by midnight for towing fees. They need to do all this — and clean up their huge mess at the Anderson household (which involved a fire and an expensive show dog getting himself covered in food) — before the Andersons are done at their gala.
Sabrina Carpenter was equally adept at playing a goodie-two-shoes, as she is playing a rebel in her hit Disney Channel show Girl Meets World. Sofia Carson, who played Evie in the Disney Channel movie The Descendants, also proved she has range, bringing warmth to her "tough cookie" role. There are laugh-out-loud moments where the group miraculously does a spontaneous rap together in a club and the ironic humor and relatable quotes throughout make it an appealing movie for children and young adults alike. It's not just a Disney movie for kids — it's for the whole family.
The DVD also comes with special features including hilarious outtakes and never-before-seen cast bloopers. If you're seen this movie, click here to give your own review and also, tell us what you thought of it in the comments. ~Natalia Makarski