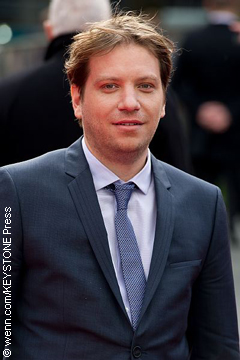 Tribute had the opportunity to talk to Godzilla director Gareth Edwards in Toronto about his exciting new movie. Having made his name directing, writing and doing the visual effects for the small budget movie Monsters, this young British director was given the opportunity to shoot Warner Bros.' new big budget film about the Japanese monster. He gave us the lowdown on how he was chosen to direct, what's it like to get feedback from fans and about shooting the movie in Vancouver!
How you first were exposed to Godzilla?
In the U.K., there was a Hanna-Barbera cartoon with Godzooky, a little baby Godzilla. And that's kind of what everyone my age thinks of, I think, in the U.K. when you say Godzilla. But then when I was a teenager, they started showing the proper Japanese Godzilla films on Channel 4. And then as an adult they re-released the original black-and-white Godzilla, which surprised me, because it's such a serious movie. It's really one big metaphor for what the Japanese went through in Hiroshima, and it's actually a very somber film. It's quite harrowing really, it's not what everyone thinks of when they think of Godzilla.
This film is very serious as well.
Yeah, I hope so. I mean, it's funny when you watch things when you are a kid. Even though as an adult when you watch them again and they may look silly, very childish, but when you are five and you watch things – you take them very seriously. And so your memory of Godzilla, if you watched them when you're little, is that they are serious movies that were quite scary. So when you get older and you get an opportunity to do a movie like this, of course you want to treat it seriously and do a scary film. And basically do the adult version of that experience that you had when you're young. It's a movie, I guess, for big kids, the way we approached this.
How did you get involved with this film?
I was very lucky, I just got a phone call from Legendary Pictures. Thomas Tull, the producer of the movie, had seen the film I did called Monsters and took a big gamble and offered this to me. It was such an honor, and an amazing opportunity – it was impossible to say no. Even though, I'll be honest, it was a daunting thing to take on because it was such a massive icon, really.
It must have required so much preparation.
That's the biggest difference between doing a big budget movie and a small budget movie. You have to plan all the shots about six months ahead of time. So all the major sequences in the film were storyboarded because it has to be budgeted and planned. Everything with the creature in it we would do what's called previsualization, which is basically like a computer game animation of those scenes. Initially I didn't want to do that because I felt like it would limit us on the day; it would be too restrictive and it's not very organic. But what I found was when you are doing a previsualization, it's just you and some animators, and you can sit down and do any shot you want, and no one is looking over your shoulder, no one is policing you. You get a chance to make a mini version of the movie without any restrictions. Then when you've finished, you can play those scenes to the studio. Hopefully if you got it right they just watch it and go, "That's great, do that!"
This film has a Canadian connection, can you tell us about that?
Well, there's a few – obviously the main one is Vancouver. We filmed the majority of the film in Vancouver and used a Canadian crew. It was fantastic. It's such a beautiful city and I'm glad we shot it there because whenever I had any down time or even the drive to work and back, you pass all these beautiful mountains. It's such a part of nature, that city; it was very easy to forget that we were in the middle of making a crazy Hollywood movie. You'd just look out the window or go for a walk and feel like you were on holiday. I think the most therapeutic, most healing thing in the world is nature and in a weird way I think that's what our film is about. If you let nature in, if you accept it, everything becomes a lot easier than if you try to push it out. I think Vancouver is one of those cities that lets it in. So it was just a very lovely experience in terms of the city itself.  ~Alexandra Heilbron