Hotel Artemis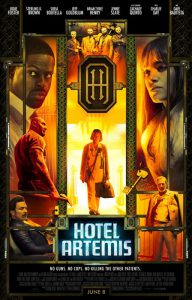 takes place in 2028 in the midst of violent riots in Los Angeles. We follow a cast of eclectic and interestingly named characters who find refuge in a members-only hospital for criminals. This secretive hospital, known as Hotel Artemis, is run by Jean Thomas (Jodie Foster) who is known as "The Nurse." Hotel Artemis is a more sophisticated action film. The main characters are developed, nuanced and witty. In a film where every character has committed a crime (personal or otherwise), there are good criminals and bad ones.
The first "guests" of the evening are Honolulu (Brian Tyree Henry) and his younger brother Waikiki (Sterling K. Brown). As you can probably tell by the names alone, there is plenty of wit mixed in with the action to appreciate throughout the film.
The brothers arrive at the Hotel Artemis with gunshot wounds after a bank robbery gone awry, and meet some peculiar guests including a sensual assassin known as Nice (Sofia Boutella) pronounced "niece," and a hothead known as Acapulco (Charlie Day). The Nurse (Jodie Foster) and her lovable assistant, or should I say "heath-care professional" and security guard Everest (Dave Bautista) are in for a busy night, as more and more patients arrive, whose secret ambitions are intricately and dangerously intertwined.
Like the plot itself, the Nurse is complex, imperfect and sympathetic. Her character is much like a real altruistic nurse with the exception that all of her patients are rowdy criminals. She runs her hospital with strict rules. The personal demons and consequent struggle of the Nurse and her patients is the real subject of this film. On a deeper level, Hotel Artemis is about the bonds that define us and the inevitable pain those bonds bring. As the character Nice so aptly comments, "We can't pick what we're good at or who we love."
Hotel Artemis was written and directed by Drew Pearce, who is known for writing and producing Iron Man 3 and Mission: Impossible – Rogue Nation.
His direction created a palpable claustrophobic feeling within the old art deco hotel. The use of shadow and the interior decor included a uniquely tacky mural for each room. The unnerving presence of the riots taking place outside the hotel was felt more than seen.
The most striking musical choices included the Nurse's personal playlist. Her character understandably suffered from anxiety. The songs (as well as anxiety relief tape) played on her humorously dated personal music device reflected her changing mood.
The costume choices ranged from average to kind of neat. An interesting choice included a stylish concept for what bank robbery mask would look like in the near future. Achieving an authentic futuristic style is a difficult task to undertake. There were a few characters that stood out from the crowd. Nice (Sofia Boutella) looked like a true femme fatale in her classic bloodshot colored evening gown.
The all-star cast played their parts well. Jodie Foster worked her quintessential magic. Her evocative expressions of helplessness are instantly recognizable. A key example dates back to her very early performance of Iris in Taxi Driver. She achieved a similar, powerful effect on audiences when she played a grieving helpless prostitute.
There seemed to be some typecasting going on with Acapulco (Charlie Day). Charlie Day is known for his role as the oblivious and corky Charlie Kelly on the television series It's Always Sunny in Philadelphia. His character seemed to be an evil and violent version of Charlie Kelly. Still, he played it well and audiences will enjoy his performance if they are not familiar with this actor.
Overall Hotel Artemis is worth watching. It is a tale of the good kind of criminals, the ones for whom love is still the most important payday. It is also about wit. Be prepared to laugh out loud in between fight scenes. ~Ari Derin
If you have seen Hotel Artemis and would like to rate/review it yourself, click here.