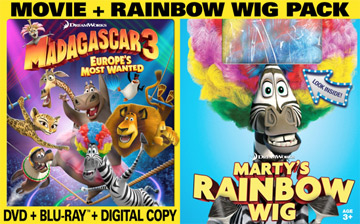 Madagascar 3 : Europe's Most Wanted comes out on DVD and Blu-ray today and is the third installment in this furry animated adventure directed by Eric Darnell, Tom McGrath and Conrad Vernon.  Don't be fooled by its kiddy appearance because the sharp writing and parody in Madagascar 3 make it a worthwhile computer-generated comedy that delivers clever jokes and classic slapstick situations all at once.
Seen through the eyes of the animals of the New York Central Zoo, we find Alex the Lion (voiced by Ben Stiller) and his daffy friends finally making their long attempted journey back to New York. We pick up right where Madagascar: Escape 2 Africa left off — the penguins rig up a makeshift airplane packed with gold and powered by monkeys — on a trip to go gambling. When Alex and friends realize that the penguins don't have any intention of coming back, Alex, Marty the Zebra (Chris Rock), Melman the Giraffe (David Schwimmer) and Gloria the Hippo (Jada Pinkett Smith) make a pact to finally get home to New York. After tracking the penguins down in a ritzy Casino in Monte Carlo, the animals find themselves on the run from Animal Control officer Captain Chantel DuBois (Frances McDormand) — whose goal to hunt "the king of the beasts" — Alex — makes her determined to stop at nothing in order trap the animals. Alex joins a washed up troupe of circus animals in order to avoid DuBois and ends up traveling Europe by train.
Madagascar 3 is great because the film delivers Darnell and McGrath's usual over-the-top humor, and certainly succeeds from the contributions of franchise newcomer Conrad Vernon, a director, story board artist and voice actor best known for his work on Dreamwork's Shrek series. Following the animals' escapades, we're taken across the scenic landscapes of Europe, which is an interesting change of scenery for this series that has mostly taken place in or off the coast of Africa. Packed full of celeb voices like Bryan Cranston, Sasha Baron Cohen, Jessica Chastain, Martin short and many more — the humor that these actors bring to the screen is what makes Madagascar 3 a real hoot.
The special extras include loads of games like "Get Them To The Train" — where you get to fire animals into a train coach — deleted scenes and even the filmmakers' commentary, Madagascar 3 brings three times the excitement to this series. ~Brandon Bastaldo