Melanie Brown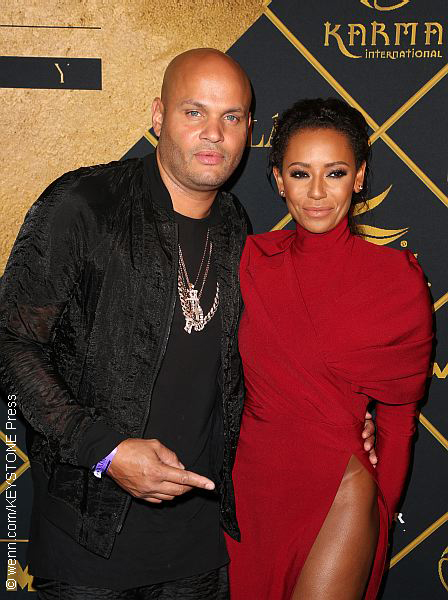 , better known as Mel B, has reportedly been granted a restraining order against her estranged husband, film producer Stephen Belafonte, just two weeks after it was announced she had filed for divorce.
According to TMZ, which broke the story, Belafonte has been ordered to stay away from Mel and her two daughters. The singer claims she is in fear for their safety.
Statements presented allege Mel was subjected to violent physical and sexual abuse throughout their marriage. In her declaration, the America's Got Talent judge recounted a number of incidents in which Belafonte reportedly threatened and beat her.
TMZ says one incident in particular occurred in July 2012, while Mel was filming an X Factor segment with singer Usher. Jealous, Belafonte punched her in the face, splitting her lip. When Mel asked how she was supposed to work with the injury, he blamed her, saying that she should have thought about that before she decided to "flirt with and f*** Usher."
The next month, one day after her Spice Girls performance closing out the London Olympics, Mel said Belafonte punched her with a closed fist, and pushed her down on the carpet. She received burns from being held down, and her face "actually scabbed over the rug burns."
In another shocking reveal, Mel accused Belafonte of getting their nanny pregnant, and paying the woman $300,000 of Mel's earnings for "alleged nanny service."
Belafonte was ordered by the judge on Monday (April 3) to leave the family home in the Hollywood Hills. He was also served with a search warrant by the Department of Alcohol, Tobacco and Firearms on Friday (March 31), after Mel claimed he was in possession of a gun. Stephen is prohibited from carrying firearms, following a previous domestic violence conviction from a past relationship.
TMZ states that ATF agents did not find any weapons during their search.
The couple separated in December of last year. Months shy of celebrating their 10-year wedding anniversary, Mel cited irreconcilable differences in the divorce proceedings, and is said to be seeking joint custody of their five-year-old daughter, Madison. ~Ashleen Grange