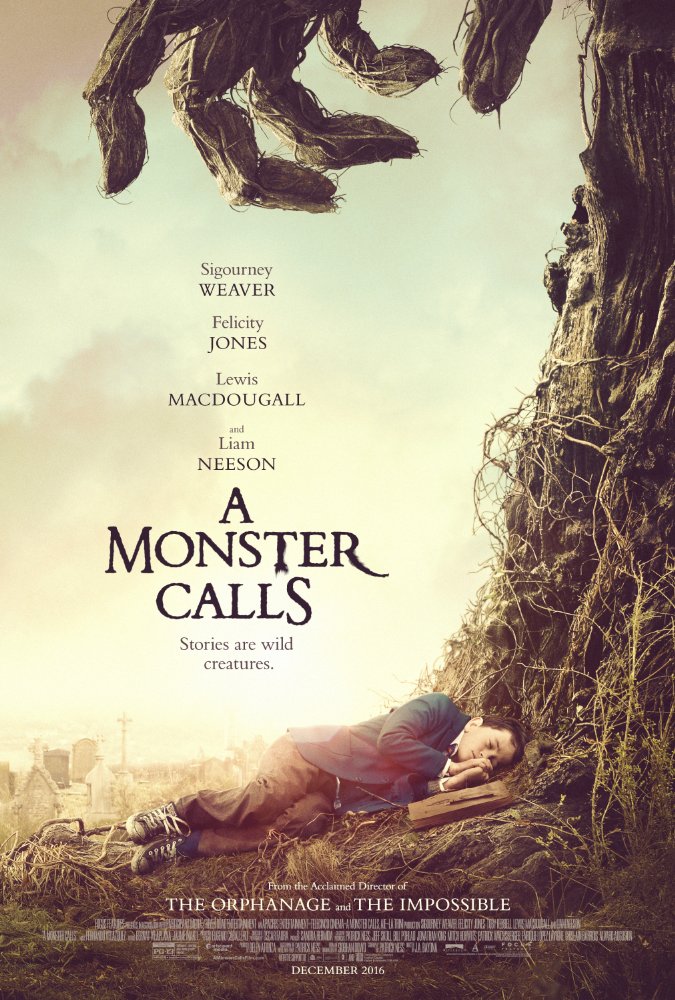 It's a new year, and it's beginning in a monstrously imaginative way.
The sci-fi fantasy A Monster Calls dashes into theaters today. With Lewis MacDougall, Felicity Jones, Sigourney Weaver and Liam Neeson's evocative voice, the film is based on Patrick Ness' acclaimed 2011 children's novel of the same name.
To darken this week's offerings, there's Underworld: Blood Wars. The thriller is the fifth in the Underworld franchise and again pits Kate Beckinsale in a vicious battle between Vampires and Lycans.
With the Golden Globes set for this Sunday (Jan. 8), there's no denying that we're at the height of awards season. One film gunning for attention is Hidden Figures, which expands into theaters everywhere this weekend and boasts a stellar cast including Taraji P. Henson, Octavia Spencer and Janelle Monáe.
Opening in limited release, Silence is also screening this weekend. The long-awaited and much-anticipated Martin Scorsese drama features Andrew Garfield and Adam Driver as two missionaries on a quest to track down their missing mentor.
Happy viewing! ~Matthew Pariselli
A Monster Calls- Due to his mother's (Felicity Jones) worsening illness, and constant bullying by classmates, 12-year-old Conor (Lewis MacDougall) is plagued by nightmares. One night, Conor discovers an unlikely ally in a tree-shaped monster (voiced by Liam Neeson) that appears at his bedroom window. The monster tells Conor three stories that draw him into a fantastical world and takes him on a journey of courage, truth, and faith. Opening everywhere today. Click here for showtimes.
Trailer: A Monster Calls
Underworld: Blood Wars- In the fifth installment of the Underworld franchise, Selene (Kate Beckinsale) has been relentlessly targeted by the Lycans and betrayed by the Vampires, but finds allies in David (Theo James) and Thomas (Peter Andersson), who inform her that the new leader of the Lycan clan, Marius, is in hot pursuit of her. In their fiendish plot, the Lycans plan to use her blood to make them invincible to the Vampires and their Death Dealers. In theaters nationwide. Click here for showtimes.
Trailer: Underworld: Blood Wars
Hidden Figures- The inspirational true story of the first female African-American mathematician, Katherine Johnson (Taraji P. Henson), and her two colleagues, Dorothy Vaughan (Octavia Spencer) and Mary Jackson (Janelle Monáe), whose groundbreaking calculations helped NASA catch up in the "Space Race" with the Soviet Union and allowed John Glenn (Glen Powell) to become the first American astronaut to successfully make a complete orbit of the Earth. Releasing wide today. Click here for showtimes.
Trailer: Hidden Figures
Silence- At a time when Christianity has been outlawed in Japan and those who follow the faith have gone into hiding or have been killed, two young Christian missionaries, Rodrigues (Andrew Garfield) and Garrpe (Adam Driver) travel to Japan in the 1600s to search for their missing mentor, Father Cristóvão Ferreira (Liam Neeson).In an attempt to ferret the Japanese Christian population out, officials force those who are suspected of being Christians to stomp on a carved image of Christ. Those who refuse are killed slowly. Screening in Toronto, Montreal, Vancouver and Edmonton. Click here for showtimes.
Trailer: Silence