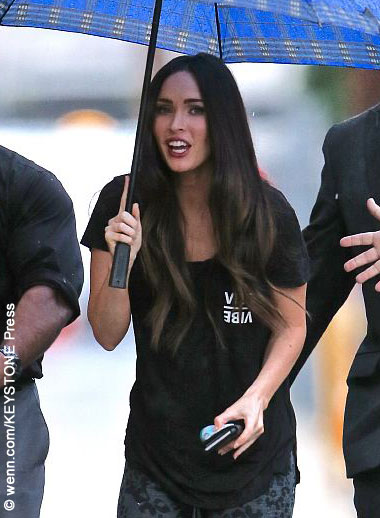 Megan Fox discovered earlier this year that she's pregnant with her husband Brian Austin Green's child, but she says she has no plans to put off her divorce to him. Although she filed divorce papers last August, friends say they're still close — obviously very close.
Megan and Brian, who have two sons together — Noah, three, and Bodhi, two — split after more than five years of marriage and 11 years as a couple. Since the separation, they have often been seen together with their kids.
Megan, who has Brian's name tattooed on her hip, has been hiding her form under baggy shirts lately but at CinemaCon in Las Vegas on Monday, she was photographed in a tight dress under a leather jacket, with the baby bump clearly visible.
According to TMZ, Megan has been entitled to all her earnings since she filed for divorce, including her pay for the upcoming film Teenage Mutant Ninja Turtles: Out of the Shadows, which hits theaters on June 3, 2016. If she puts a stop to the divorce, she would have to divvy up her earnings with her estranged husband, who doesn't earn nearly as much as she does.