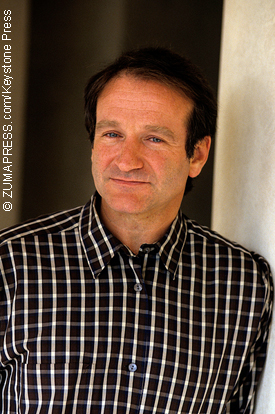 Almost six months after his death, Robin Williams' widow Susan and his children Zachary, Zelda and Cody are in a legal battle over the late actor's estate.
Susan Schneider Williams, Robin's third wife, filed her papers in December. His children Zachary (from his first marriage) and Zelda and Cody (from his second marriage) filed their papers in January. The dispute is over money and property.
The papers filed by Susan state that since she lost "her husband through a shocking and emotionally charged event," she has not been "given time to grieve her loss free from the frenetic efforts to interfere with her domestic tranquillity." She alleges that some of the personal items that belonged to Robin were taken without her permission.
According to reports, the kids claim that Susan refused to let them in the house after his death. She claims the kids gave her three days notice before they wanted to come and take what the trust promised them. Susan's petition says, "The co-trustees had keys to her home. Naturally, Mrs. Williams became frightened of the co-trustees invading her home." The kids also say she is trying to keep items left to them, for example his jewelry and watch collection. Robin reportedly left his movie memorabilia, action figures, graphic novels and theatre masks, among other items, to his children.
The children's petition states Susan's filing "adds insult to terrible injury" and it's a means to "prevent them from receiving what their father wanted them to receive." It adds that they are "heartbroken" that Susan has "acted against his wishes by challenging the plans he so carefully made for his estate."
Susan allegedly wants items specific to their marriage, like the tux he wore at their wedding and other "knickknacks," as well as jewelry and other memorabilia the children say they should get.
However, court documents say that Robin's children get all of his "clothing, jewelry, personal photos taken prior to his marriage to [Susan]… memorabilia and awards in the entertainment industry and the tangible personal property located in Napa."
Susan feels "memorabilia" should only apply to items relating to his fame and career. For example, watches shouldn't be included in any jewelry the children get.
A hearing is scheduled for March 30 in Superior Court in Marin County.
Robin committed suicide in his California home August 11, 2014 and died as a result of asphyxia resulting from hanging. He was 63. ~Sandra D. Sukraj