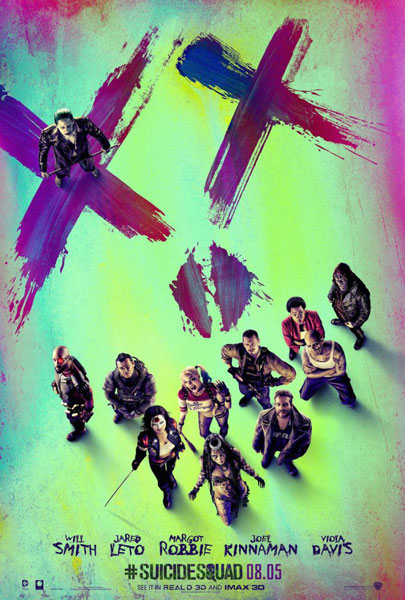 Fans were on a high this week when much-awaited trailers were released for comic book-turned-movie darlings. Harley Quinn. The Joker. Deadshot. That's right, it's Suicide Squad — the highly buzzed movie from Warner Bros. that's releasing this summer. An exclusive trailer was unveiled at the MTV Movie Awards last weekend.
Marvel's Doctor Strange, starring Benedict Cumberbatch, threw fans who were looking forward to this one into a frenzy.
Adding to your excitement, the trailer for J.K. Rowling's 2001 novel Fantastic Beasts and Where to Find Them finally makes its premiere in the muggle world.
Suicide Squad – A group of super villains are tasked with a mission to defeat a dangerous entity. Rick Flag (Joel Kinnaman) is responsible for these mastermind criminals as they are warned that if they disobey, try to escape or irritate him, the ultimate punishment will be death. We are also given a sneak peek of Batman on the heels of The Joker as he escapes in his Lamborghini.
Fantastic Beasts and Where to Find Them – Seventy years before Harry Potter reads writer Newt Scamander's (Eddie Redmayne) book in school, the author enjoys adventures in New York's secret community of witches and wizards.
Doctor Strange – A brilliant but arrogant neurosurgeon (Benedict Cumberbatch) is taken under the wing of a sorcerer, who teaches him the mystical arts in order to defend the world against evil.
The Family Fang – Annie (Nicole Kidman) and Baxter (Jason Bateman) are embarrassed by their parents, who have been involved in controversial art work. When they receive a call from the police to tell them their parents' car has been found abandoned, they believe something terrible has happened.
The Secret Life of Pets – In Manhattan, Max is enjoying his life as his owner's favorite pet in the comfortable apartment building where they live together. One day, his life is turned upside down when his human brings home a sloppy mongrel named Duke.

A Monster Calls – A 12-year-old boy copes with his mother's (Felicity Jones) illness and being bullied by his classmates by escaping into a fantastical world of monsters and fairy tales. Based on the award-winning children's fantasy novel by Patrick Ness.
The Angry Birds Movie – On an island paradise, Red (Jason Sudeikis), a bird with a temper problem, speedy Chuck (Josh Gad) and the volatile Bomb (Danny McBride) have always been outsiders. But when the island is visited by mysterious green piggies, it's up to these unlikely outcasts to figure out what the pigs are up to.
Our Kind of Traitor – Perry (Ewan McGregor) meets a Russian money launderer (Stellan Skarsgård) while on vacation. When the man asks Perry to hand British Intelligence a memory stick, he finds himself unwillingly involved in a spy mission.
When the Bough Breaks – When John and Laura Taylor (Morris Chestnut, Regina Hall) are unable to conceive their own child, they hire a young woman, Anna (Jaz Sinclair), to act as their surrogate. Unfortunately for the hopeful parents, Anna develops a fixation on John and when he doesn't respond favorably to her advances, she leaves, threatening to keep the baby.