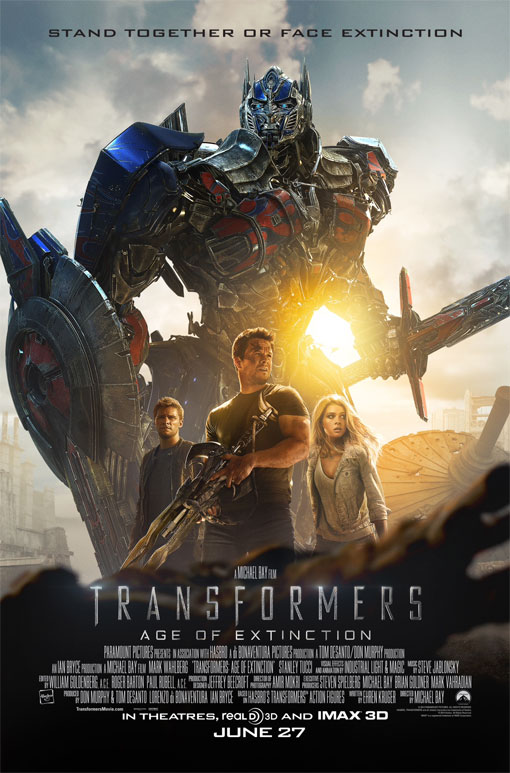 The year 2014 showed the world some great movies, including Guardians of the Galaxy and The LEGO Movie. However, it wasn't without its fair share of bad films that we could have done without. Just one day before the highly anticipated prestigious 87th Academy Award nominations, The Golden Raspberry Awards — better known as the Razzie Awards — announced their 2014 nominations for the worst achievements in film.
Despite being the highest money-making film at the 2014 worldwide box office, Transformers: Age of Extinction topped the list with seven nominations. They included Worst Picture, Worst Screenplay and Worst Director for Michael Bay. Close behind was Kirk Cameron's Saving Christmas and The Legend of Hercules, each with six nominations.
Cameron Diaz is on the list three times for varying roles: Worst Actress (The Other Woman, Sex Tape), Worst Supporting Actress (Annie) and Worst Screen Combo (Sex Tape with Jason Segel).
Seth MacFarlane also scored three nominations for his film A Million Ways to Die in the West. He was nominated for Worst Actor, Worst Director and Worst Screen Combo with Charlize Theron.
Celebrating their 35th Anniversary, the Razzie Awards announced a brand new category titled The Razzie Redeemer Award. The award gives actors a chance to redeem themselves for their past disasters by celebrating their recent successes. Nominees this year include Ben Affleck, Jennifer Aniston and Kristen Stewart. ~Janine Wyslobicky
Full List of Nominees:
Worst Picture
Kirk Cameron's Saving Christmas
Left Behind
The Legend of Hercules
Teenage Mutant Ninja Turtles
Transformers: Age of Extinction
Worst Actor
Kirk Cameron, Kirk Cameron's Saving Christmas
Nicholas Cage, Left Behind
Kellan Lutz, The Legend of Hercules
Seth MacFarlane, A Million Way to Die in the West
Adam Sandler, Blended
Worst Supporting Actor
Mel Gibson, Expendables 3
Kelsey Grammer, Expendables 3, Legends of Oz, Think Like a Man Too, Transformers: Age of Extinction
Shaquille O'Neal, Blended
Arnold Schwarzenegger, Expendables 3
Kiefer Sutherland, Pompeii
Worst Actress
Drew Barrymore, Blended
Cameron Diaz, The Other Woman and Sex Tape
Melissa McCarthy, Tammy
Charlize Theron, A Million Ways to Die in the West
Gaia Weiss, The Legend of Hercules
Worst Supporting Actress
Cameron Diaz, Annie
Megan Fox, Teenage Mutant Ninja Turtles
Nicola Peltz, Transformers: Age of Extinction
Susan Sarandon, Tammy
Brigitte Ridenour (nee Cameron), Kirk Cameron's Saving Christmas
Worst Director
Michael Bay, Transformers: Age of Extinction
Darren Doane, Kirk Cameron's Saving Christmas
Renny Harlin, The Legend of Hercules
Jonathan Liebesman, Teenage Mutant Ninja Turtles 
Seth MacFarlane, A Million Ways to Die in the West
Worst Remake, Rip-off or Sequel
Annie
Atlas Shrugged: Who is John Galt?
The Legend of Hercules
Teenage Mutant Ninja Turtles
Transformers: Age of Extinction
Worst Screen Combo
Any Two Robots, Actors (Robotic Actors),Transformers: Age of Extinction
Kirk Cameron & His Ego, Kirk Cameron's Saving Christmas
Cameron Diaz & Jason Segel, Sex Tape
Kellan Lutz & Either His Abs, His Pecs or His Glutes, The Legend of Hercules
Seth MacFarlane and Charlize Theron, A Million Ways to Die in the West
Worst Screenplay
Kirk Camerons' Saving Chrismas
Left Behind
Sex Tape
Teenage Mutant Ninja Turtles
Transformers: Age of Extinction
Redeemer Award
Ben Affleck, from Gigli to Argo and Gone Girl
Jennifer Aniston, from four-time Razzie nominee to Cake
Mike Myers, from The Love Guru to directing Supermensch
Keanu Reeves, from six-time Razzie nominee to John Wick
Kristen Stewart, from six-time Razzie winner for Twilight to Camp X-Ray
Do you agree with the nominations? Are there any movies you think should have been nominated? ~Janine Wyslobicky