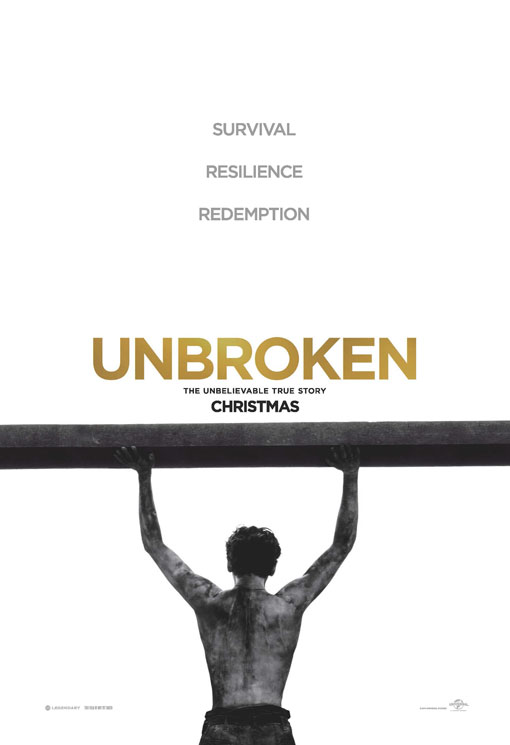 Even though she didn't get a Golden Globe nomination, Angelina Jolie's Unbroken is a favorite among Tribute fans. It took the top spot for our weekly popular trailers. Following close was the Liam Neeson thriller, Taken 3. The Imitation Game and Into The Woods also made it on the list. What's your favorite trailer of the week?
1) Unbroken
2) Taken 3
3) The Imitation Game
4) Into The Woods
5) The Woman in Black 2: Angel of Death
1) Unbroken trailer: Bullied as a youngster, Louis "Louie" Zamperini (Jack O'Connell) learned to fight back and beat up his tormentors. He enjoyed that so much that he began getting into trouble, so his brother Pete encouraged him to take up track to direct his energy towards something that would give him a sense of pride. Louie went on to set records as a runner and even made it to the 1936 Summer Olympics in Germany. In 1941 Louie enlisted in the United States Army Air Forces but while in combat, his plane was damaged and crashed into the sea. After 47 days on the water, he reached land but was immediately captured by the Japanese. Thrown into a prisoner-of-war camp, he was tormented by prison guard Mutsuhiro Watanabe, who was considered one of the 40 most wanted war criminals in Japan. Based on the book by Laura Hillenbrand.

2)Taken 3 trailer: Ex-covert operative Bryan Mills' (Liam Neeson) reconciliation with his ex-wife (Famke Janssen) is tragically cut short when she is brutally murdered. Consumed with rage, and framed for the crime, he goes on the run to evade the relentless pursuit of the CIA, FBI and the police. For one last time, Mills must use his "particular set of skills," to track down the real killers, exact his unique brand of justice, and protect the only thing that matters to him now – his daughter (Maggie Grace).


3) The Imitation Game trailer: Alan Turing (Benedict Cumberbatch), a brilliant Cambridge mathematician, cryptanalyst and computer scientist, is enlisted by his country during World War II to break the Nazi Enigma code, and is later persecuted by the government in 1952 for being homosexual. Based on the book Alan Turing: The Enigma by Andrew Hodges.

4) Into the Woods trailer: A baker (James Corden) and his wife (Emily Blunt) learn that they've been cursed by a witch (Meryl Streep) into being childless. They must venture into the woods to find out how to break the spell so they can start a family. Along the way, they encounter well known characters of a variety of the Brothers Grimm fairy tales, including Rapunzel (Mackenzie Mauzy), Little Red Riding Hood (Lilla Crawford) and Cinderella (Anna Kendrick). Based on the hit Broadway musical by James Lapine and Stephen Sondheim.

5) The Woman in Black 2: Angel of Death trailer: Forty years after the events of the first film, a group of children are evacuated from London during World War II and taken for safety to temporarily live at Eel Marsh, a deserted house in the country that has been abandoned for years. They find it to be cold, dark and forbidding, but the worst is yet to come. They soon begin to feel that they are not alone when toys and rocking chairs move on their own and music plays. When one of the little boys goes missing, it appears the presence of children has awakened the house's darkest inhabitant—The Woman in Black.