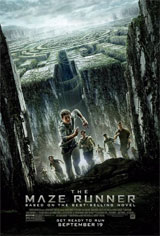 It was a home run for the young adult sci-fi film The Maze Runner as it not only topped the weekend box office but was also a favorite among our Tribute fans. Here are the top five trailers of the week. Leave a comment below if you liked these or any other trailers!
1) The Maze Runner
2) A Walk Among the Tombstones
3) No Good Deed
4) The Drop
5) Dr. Cabbie
1) The Maze Runner trailer: Teenager Thomas (Dylan O'Brien) is brought to a place called the Glade, a giant maze surrounded by vicious creatures called Grievers. He has no memories of anything in his life that happened before. You can check out our interview with the cast!

2) A Walk Among the Tombstones trailer: When drug dealer Kenan Khoury's wife is kidnapped and he tries to negotiate the price of the ransom, she's murdered. He hires his friend, ex-NYPD cop and current private investigator Matt Scudder (Liam Neeson), along with two computer geniuses, a streetwise punk and drug lords to find out who killed his wife.

3) No Good Deed trailer: When a murderer (Idris Elba) who is suspected in the disappearance of five women is denied parole, he breaks out of prison and goes on a rampage, first tracking down his former fiancée who's found a new lover, then invading the home of a devoted wife and mother (Taraji P. Henson) of two small children.

4) The Drop trailer: THE DROP follows lonely bartender Bob Saginowski (Tom Hardy) through a covert scheme of funneling cash to local gangsters — "money drops" — in the underworld of Brooklyn bars. Under the heavy hand of his employer and cousin Marv (James Gandolfini), Bob finds himself at the center of a robbery gone awry and entwined in an investigation that digs deep into the neighborhood's past where friends, families, and foes all work together to make a living — no matter the cost.

5) Dr. Cabbie trailer:
Despite having graduated from a respected medical school in India, a young doctor (Vinay Virmani) has to take a job as a cab driver when he immigrates to Canada. After he helps a pregnant woman successfully give birth in the cab, he decides to turn the car into a medical clinic on wheels.