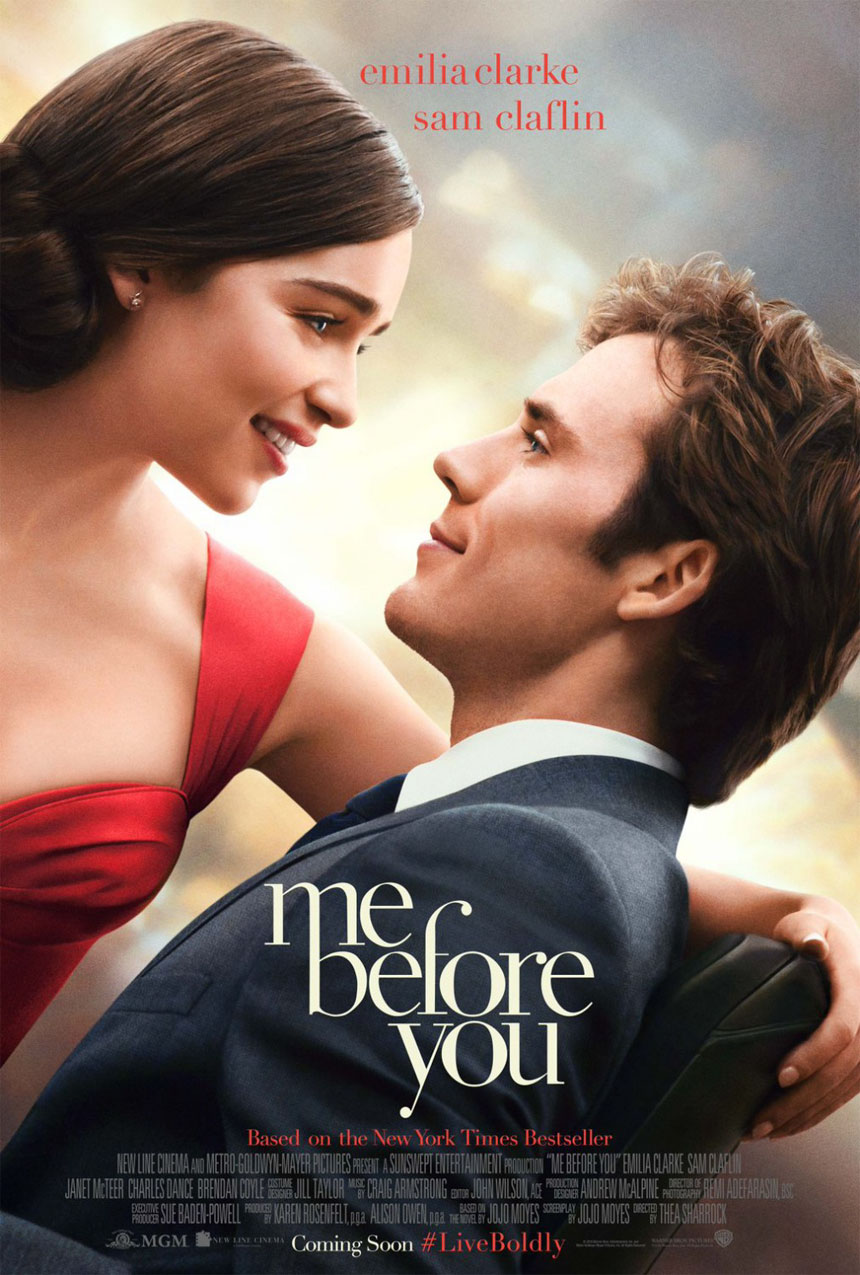 You clicked. We crunched the numbers. And the second trailer for Me Before You stands victorious, shooting up two spots to land comfortably as the most-watched trailer of the week.
The romantic film adaptation snatched the top spot from last week's champ X-Men: Apocalypse, which fell to second. The third trailer for the action sequel Teenage Mutant Ninja Turtles: Out of the Shadows narrowly missed the top two, with Alice Through the Looking Glass' second trailer following close behind at fourth. The buddy cop comedy The Nice Guys and its final trailer tops off this week's most popular trailers.
Check out the top trailers below:
1.) Me Before You
2.) X-Men: Apocalypse
3.) Teenage Mutant Ninja Turtles: Out of the Shadows
4.) Alice Through the Looking Glass
5.) The Nice Guys
Me Before You- Lou (Emilia Clarke) is a simple, small town girl hopping from job to job. Will (Sam Claflin) is a wealthy businessman who becomes confined to a wheelchair after an accident. These two very different people from very different worlds meet when Will decides life isn't worth living and Lou becomes his caregiver. After a challenging start, their diverse circumstances impact each other in ways they could have never imagined.
X-Men: Apocalypse- Ruling Egypt thousands of years ago, En Sabah Nur, also known as Apocalypse (Oscar Isaac), was the first mutant in existence. Betrayed by his worshippers, he was entombed, while his followers, the Four Horsemen, were destroyed. Centuries later, in 1983, he awakens to find the world is not as he left it. He believes mankind to be corrupt and weak, and seeks to destroy all humans and mutants in order to build anew. He recruits Magneto (Michael Fassbender) as well as other wayward mutants to create this new world order. Charles Xavier, now Professor X (James McAvoy), and Raven (Jennifer Lawrence) must now lead a team of young X-Men to fight against Apocalypse and the inevitable destruction of the Earth.
Teenage Mutant Ninja Turtles: Out of the Shadows- The Teenage Mutant Ninja Turtles — brothers Raphael (Alan Ritchson), Michelangelo (Noel Fisher), Leonardo (Pete Ploszek) and Donatello (Jeremy Howard) — return to save New York City from a new threat. April O'Neil (Megan Fox) is joined again by Vernon Fenwick (Will Arnett) and this time around, a goalie-masked, hockey stick-wielding vigilante named Casey Jones (Stephen Amell) as they team up with the turtles to combat purple ooze, which turns humans into animals.
Alice Through the Looking Glass- In this sequel to 2010's Alice in Wonderland, Alice Kingsleigh (Mia Wasikowska) returns to London from an ocean voyage. She comes across a magical mirror and falls through it, back to the fantastical world of Underland. There, she finds all of her old friends — including the White Rabbit (Michael Sheen), Absolem (Alan Rickman), the Cheshire Cat (Stephen Fry) and the Mad Hatter (Johnny Depp). However, she's saddened to learn that the Hatter has lost his Muchness. Mirana (Anne Hathaway) advises Alice that if she wants to help the Hatter, she has to go get the Chronosphere, a metallic globe inside the chamber of the Grand Clock that powers all time. On her quest, Alice runs into a road block in the form of Time himself (Sacha Baron Cohen), a strange creature who seems to be part human and part clock.
The Nice Guys- Holland March (Ryan Gosling) is a depressed, alcoholic, arguably suicidal, private detective. When a distressed woman claims to have seen her seemingly dead niece, Holland is hired to find her. He believes this woman has mistaken a young girl named Amelia (Margaret Qualley) for her niece. Amelia, however, does not want to be found. She hires an "enforcer" named Jackson Healy (Russell Crowe) to ensure Holland leaves her alone. The two come to blows and Holland abruptly stops his search for Amelia. But when Jackson is attacked and warned about making deals with this mysterious Amelia, he smells something fishy and begins to believe she is part of a bigger plan. He recruits Holland to help track her down, and along with Holland's pre-teen daughter Holly (Angourie Rice), the unlikely allies uncover a conspiracy that somehow links Amelia to a series of tragic deaths involving professionals in the porn industry.