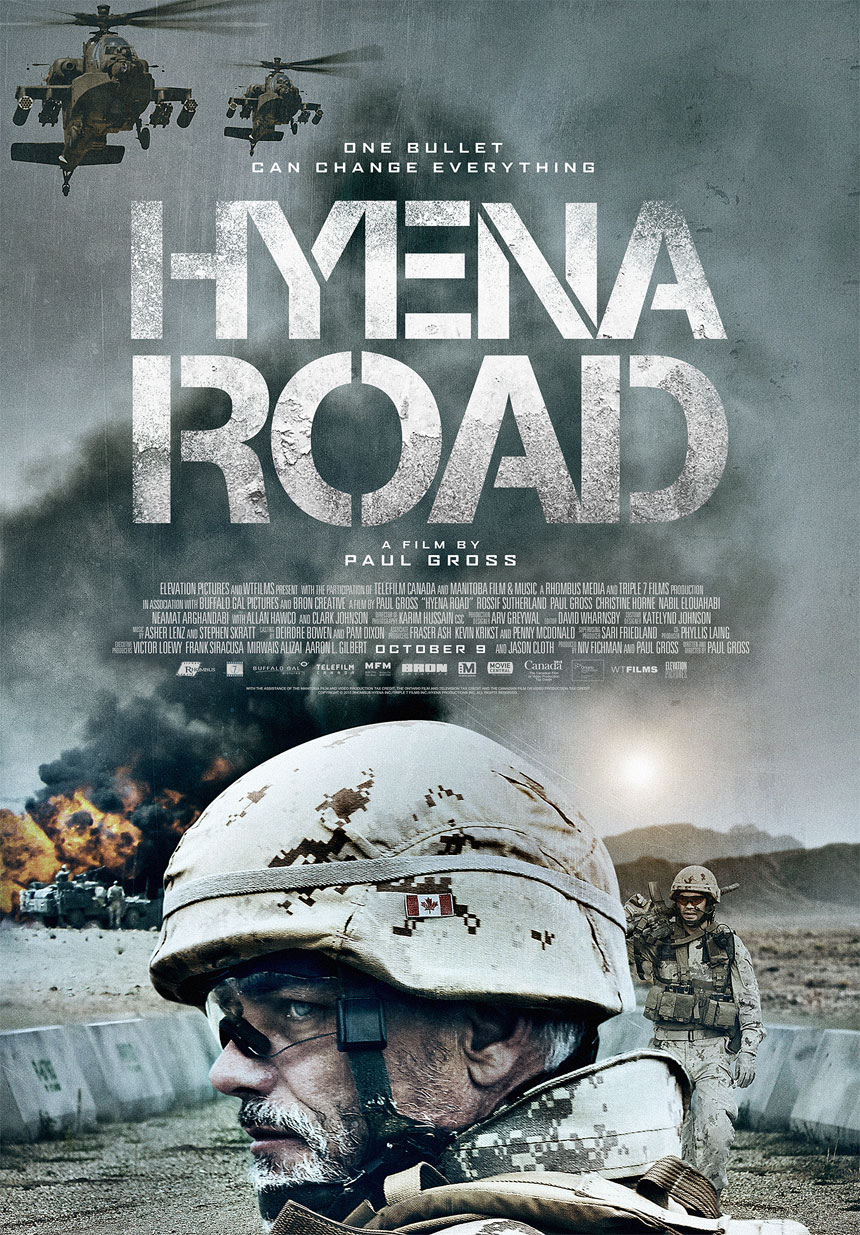 Canadian film distributor Elevation Pictures is offering free admission at select theatres this Remembrance Day (Wednesday, November 11) to watch Hyena Road: written, directed by and co-starring Paul Gross.
Hyena Road opened across Canada on October 9 and had the biggest opening for a Canadian film this year to date. The film will be available on DVD/Blu-ray and On Demand in early 2016. It stars Rossif Sutherland as a Canadian sniper in the heart of Taliban territory in Afghanistan.
The film's charitable partner, Wounded Warriors Canada (WWC), which specializes in supporting Veterans and their families who are living with operational stress injuries, is supporting the screenings to create additional awareness. The partnership is intended to help educate and inform the public about the challenges facing our Canadian Armed Forces members, Veterans and their families who return from operations.
There will be late matinee screenings at select Cineplex Entertainment locations and 4:00 p.m. screenings at select Landmark Cinema locations, with tickets available at the box office.
Click here for a list of free screenings.
Participating theatres include:
Landmark Cinemas 24 Whitby
Landmark Cinemas 24 Kanata
Landmark Cinemas 10 Kingston
Landmark Cinemas 12 Kitchener
Landmark Cinemas 8 Towne Winnipeg
Landmark Cinemas 8 Grant Park Winnipeg
Landmark Cinemas 8 Brandon
Landmark Cinemas 16 Country Hills Calgary
Landmark Cinemas 10 Shawnessy Calgary
Landmark Cinemas 9 City Centre Edmonton
Landmark Cinemas 7 Spruce Grove
Landmark Cinemas 6 Fort McMurray
Landmark Cinemas 6 Esplanade N. Vancouver
Landmark Cinemas 10 New Westminster
Landmark Cinemas 12 Guildford Surrey
Landmark Cinemas 4 University Heights Victoria
Landmark Cinemas 3 Paramount Kelowna
Landmark Cinemas 10 Grand Kelowna
Landmark Cinemas 5 Encore West Kelowna
Landmark Cinemas 4 Rialto Courtenay
Landmark Cinemas 8 Avalon Nanaimo
Landmark Cinemas 5 Aurora Fort St. John
Landmark Cinemas 7 Penticton
Landmark Cinemas 5 Columbia Cranbrook
Landmark Cinemas Campbell River
Cineplex Dartmouth Crossing
Cineplex Montreal Forum
SilverCity Gloucester
Cineplex Odeon Eglinton Town Centre
Cineplex Winston Churchill
Cineplex Yonge and Dundas
SilverCity Polo Park
Scotiabank Theatre Chinook
Cineplex Langley
SilverCity Victoria
Galaxy Regina
Cineplex Odeon North Edmonton