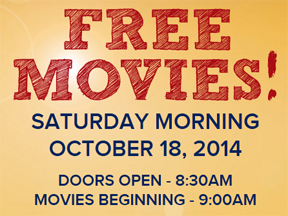 Cineplex is offering free movies on this Saturday morning (Oct 18) to celebrate their fourth annual Community Day. All proceeds raised from the sale of $2.00 movie snacks (popcorn, soft drinks and select candy items) and mini Rafiki friend chain bracelets (also $2.00 each) will benefit Free The Children.
"Free The Children is excited to be partnering with Cineplex to bring local communities together in support of young people right here in Canada," said Marc Kielburger, Co-Founder of Free The Children. "Community Day allows families to spend time together while helping to empower young people to reach their full potential as agents of change in their local and global communities."
Theatres will open their doors at 8:30 a.m., with the first movies beginning at 9:00 a.m. Movies include Escape from Planet Earth, Ender's Game, alking with Dinosaurs 3D, ParaNorman, Divergent and Free Birds. Seating for each movie is limited and available on a first-come, first-served basis. All locations will return to regular programming on the afternoon of October 18.