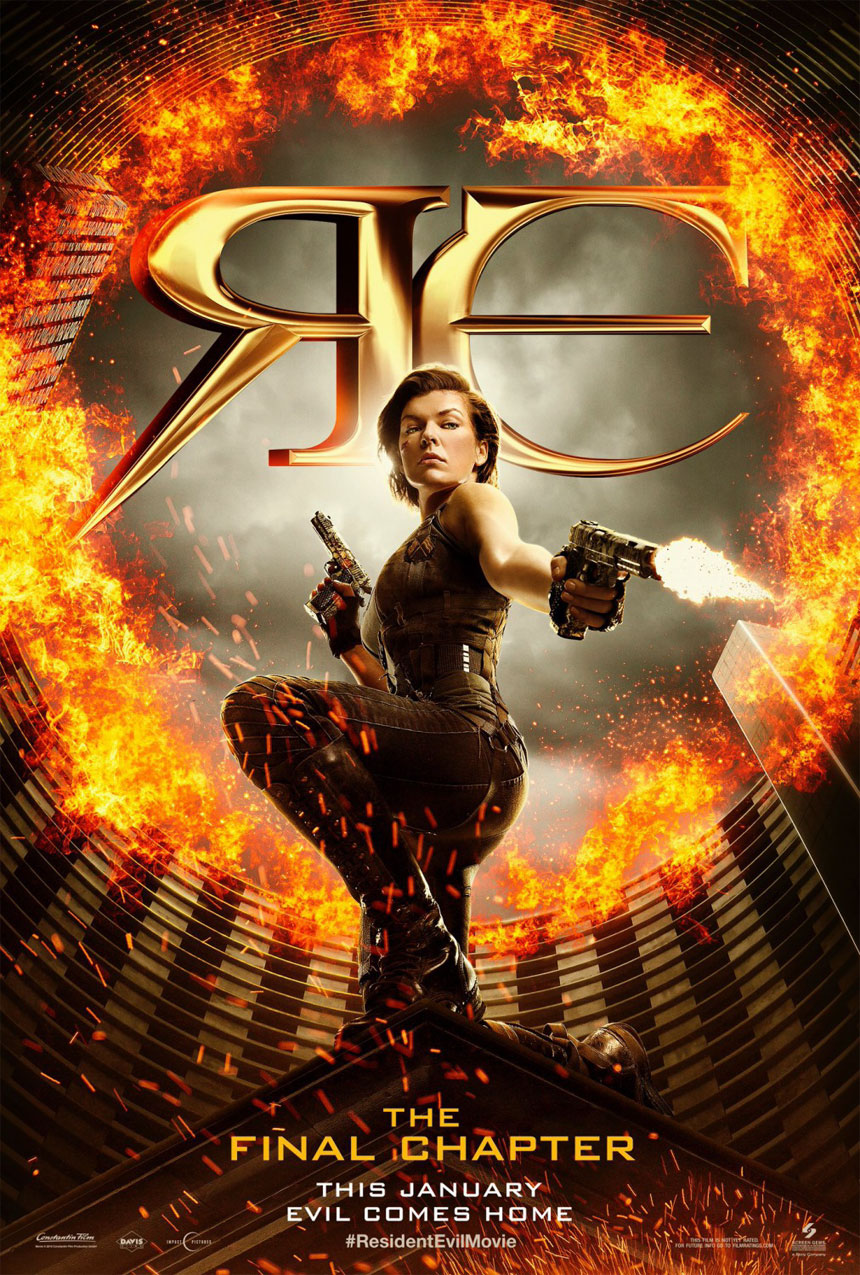 Are you ready for the sixth and final installment of the Resident Evil series? Resident Evil: The Final Chapter will be Alice's (Milla Jovovich) most difficult adventure as she fights to save humanity — without her superhuman abilities.
Want even more action? Check out the trailer for Marvel's Luke Cage, a Netflix original series. Need a fix of sci-fi instead? View the trailer for Arrival, an upcoming alien movie starring Amy Adams.
Scrolling down to check out more of this week's new trailers! ~ Natalia Makarski
1.) Resident Evil: The Final Chapter
2.) Marvel's Luke Cage
3.) Arrival
4.) Bad Santa 2
5.) Dunkirk
6.) Complete Unknown
7.) The Sea of Trees
8.) Priceless
9.) I.T.
10.) Brother Nature
Resident Evil: The Final Chapter: Immediately after the events of Resident Evil: Retribution, humanity is nearly doomed after Alice (Milla Jovovich) is betrayed by Wesker (Shawn Roberts). Alice travels to Raccoon City, where the Umbrella Corporation is preparing a final strike to eliminate all remaining survivors of the apocalypse. In a final stand, Alice joins forces with an unlikely ally.
Marvel's Luke Cage: After an experiment, Luke Cage (Mike Colter) is left with super strength and unbreakable skin. As a fugitive, he keeps a low profile and rebuilds his life in Harlem, New York City. When crime boss Cornell "Cottonmouth" Stokes (Mahershala Ali) wages war on Harlem, Luke has to come forward and protect the city while confronting his past.
Arrival: When mysterious spaceships land in various locations around the world, the military hires an elite team consisting of linguist Louise Banks (Amy Adams), Ian Donnelly (Jeremy Renner) and Colonel Weber (Forest Whitaker) to investigate. It is up to them to determine whether these alien crafts simply come in peace — or are a threat to humanity.
Bad Santa 2: Booze-soaked, foul-mouthed con-man Willie Soke (Billy Bob Thornton) is back to his old tricks, posing as Santa, this time to swindle money from a charitable organization. He's joined by his equally wicked mother (Kathy Bates).
Dunkirk: In 1940, during the early days of World War II, hundreds of thousands of Allied soldiers from Britain, Belgium and Canada find themselves trapped on the beach of the French coastal town of Dunkirk as they face an impossible crisis. They've been cut off and surrounded by ruthless German Nazi troops. Over the course of eight days, they must struggle to survive and hope for rescue.
Complete Unknown: As Tom (Michael Shannon) celebrates his birthday with a group of close friends, he is startled to see a woman from his distant past at the party. Jenny — or Alice (Rachel Weisz), as she now calls herself — reveals a shocking secret. After disappearing 20 years earlier, she began to reinvent herself every few years, taking on a new name, a new career and a new life each time. After giving Tom a glimpse of what life could be like if he lets go of the safety and security he has so carefully created, Alice asks him to make a choice that will change everything.
A Sea of Trees: An American professor (Matthew McConaughey) meets an enigmatic, injured stranger (Ken Watanabe) while wandering through a forest, and the two embark on a spiritual, life-changing journey of friendship, discovery and healing.
I.T.: When successful, self-made businessman Mike Regan (Pierce Brosnan) invites an I.T. consultant, Ed (James Frecheville), to come over to his house to have a look at his home internet connection, Ed enables the built-in cameras so he can spy on Mike's family. Next thing Mike knows, his company is also hacked and Mike finds himself in a deadly, high-stakes game of cat-and-mouse with Ed.
Priceless: After losing both his wife and daughter, James Stevens (Joel Smallbone) takes a job driving a truck on a one-time trip across the country for cash — no questions asked. But he's faced with a life-changing choice after he discovers exactly what he's delivering.
Brother Nature: Straight-laced politician Roger (Taran Killam) is planning to propose to his girlfriend at her family's lake house. However, when he meets his potential future brother-in-law Todd (Bobby Moynihan), the man's enthusiasm catapults Roger into a series of unfortunate events.