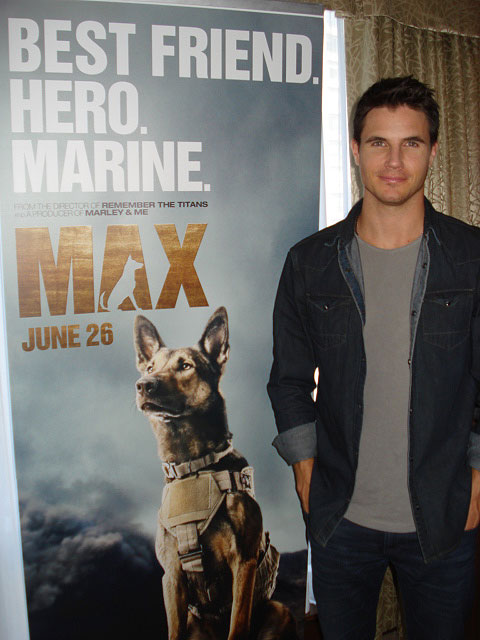 Canadian actor Robbie Amell was in Toronto recently to promote his upcoming family film Max. You may remember him from CW's The Tomorrow People. Currently he plays Firestorm on CW's The Flash.
Earlier this year, the 27-year-old actor charmed fans as the heartthrob football player in the teen comedy The DUFF.  Robbie will now be seen in a different light as he takes on the role of U.S. Marine Kyle Wincott in the heartwarming drama Max. We caught up with the down-to-earth actor to discuss his role in the film, working with a Belgian Malinois and the role he just can't wait to play!
First of all, are you a dog lover?
I am. I have two dogs. My fiancée had a Maltese before we met and so now I have adopted that dog as my own because we've been together for seven years. Then I bought a dog so her dog Daisy could have a friend. It's a shih tzu poodle, who was supposed to be between nine and 18 pounds and stopped growing at four pounds. So I have two little four and five pound dogs that make me look very manly when I take them for a walk.
That's hilarious! But it prepared you for this, right?
It was great. There were five Belgian Shepherds that played Max. The one I worked most with was Carlos, who was unbelievable. Really impressive dog.
Tell me about your role in the film.
I play Kyle Wincott, a Marine serving in Afghanistan who's a handler for an IED sniffing dog. I actually get killed trying to save Max from an explosion and when the dog is sent back to the U.S. he has post traumatic stress disorder, which actually happens to these dogs and service animals.  The story is really about my family and my brother coming to terms with my death and becoming close with this dog.
While working on this film, what did you find most surprising? 
You know, what was really impressive with these dogs was that they were hitting their marks and some of the dogs were built for stunts and fake fighting. Really, just impressive things that I didn't know how they were going to film with animals and the dogs were more professional than me. What was really special was working alongside 10 active military and some Marines and some army. These guys spent time with us, they were so awesome. You know, teaching us how we would be standing and walking around as if nothing was going on. It was like you're always on alert, you've been walking for so long and it's so hot. He's like, "This is how you hold your gun so you don't destroy your arms." Your shoulders rested on part of your vest. Just little things we wanted to look real to any military who watch the movie. So it was really amazing to work with them and hear their stories. We shot in North Carolina. So I just learned a lot and had a lot of fun.
What kind of training did you receive for this role?
I actually wrapped The DUFF on a Thursday night. I missed my flight so they put me in a car, drove me from Atlanta to North Carolina, shaved my head and threw me into training. There's a shooting range near my house in Burbank, so I'm very comfortable with firearms. I don't own one but I go to the shooting range a lot. But it was more just hanging out with these Marines and these army men and just trying to get into the mindset and talking to them, hearing their stories and learning how you would react to things.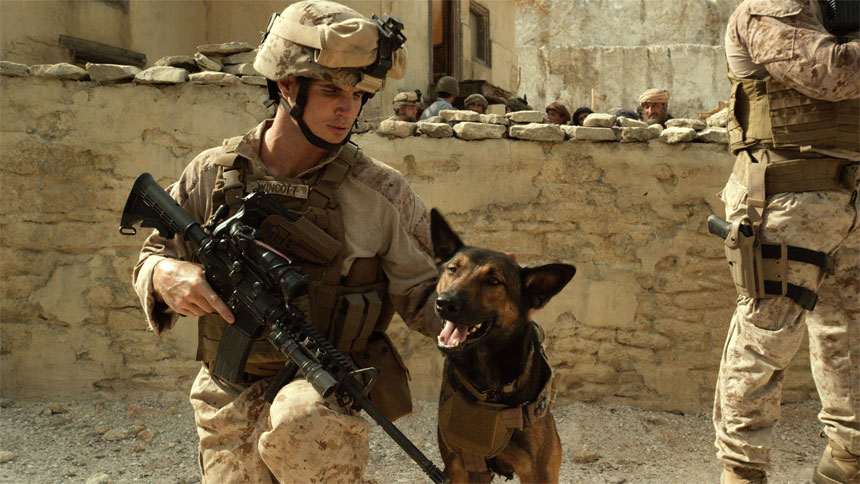 Max is a Belgian Malinois – what can you tell me about this breed and any challenges you faced while shooting?
They are very smart, they're not the only breed used for IED sniffing dogs. But they're very smart, they're very loyal and they're very strong. The only problem with us shooting with these Belgian Shepherds is that we were shooting in 140 degree heat and the dogs were wearing a flak vest, so the dogs would overheat and they had to get the dogs into some cooling vents, so they would swap the dogs in and out.
How long did you work with canines before filming began?
I jumped right into filming out there. They brought the dog over, introduced me, then fed him some treats. But then throughout my two weeks of filming I was with the dog at all times. Carlos and I got pretty close. He was awesome. One of the other bigger dogs was having a rough day. He was pulling me around. There's a scene in the movie where it shows me training with the dog and so I'm running over the obstacle course. At one point, he just took me for a run. He just took off and I was holding a leash. That was pretty insane.
We know dogs are man's best friend and they share a special bond. How is the bond different between Marines and military dogs?
What I read about these dogs and talking to some of the people over there is that the bond between the handler and the dog, as far as when they're IED sniffing dogs, is the trust that they have. I mean, this dog is the first line of defense, sniffing out bombs, that if they don't find, could kill myself or other people in our group. So, I mean the bond between the dogs is that they eat, sleep and live together at all times. And their trust is unbelievable. I've read some really unbelievable stories about people who were injured overseas and then reunited with the dogs and the stories just…they bring tears to your eyes.  They're beautiful. There was a big thing in National Geographic about war dogs and their handlers, it's really special.
Why do you think this film will appeal to kids and adults?
Boaz Yakin, who directed it, is so good at writing heartfelt good family films without making it cheesy, like Remember the Titans, such a great movie. I think he did the same thing with Max. It's very heartfelt, real and you'll probably cry in this movie but you'll also be so uplifted and happy. You really get behind the real story of the movie, which is this young kid learning about his brother and getting close with his family and this dog. Of course, it's very sad that it's a death that brings them together but this family is so much closer after because of it.
This film puts you in very different light, were you intentionally seeking mature roles?
I've always had so much respect and admiration for our service men and women, so playing a Marine was really special to me. I've wanted to play military for a while, so getting to do that was awesome; getting to work with all the service men was really cool. I'm 27 now and I just finished playing high school again but that was kind of a special situation. I'd love to start playing some older roles – in Max I'm probably in my early to mid-20s. In Nine Lives, I'm mid-20s. To play a high school kid, it would have to be a pretty special project.
When I ask actors what's your dream role, many say they'd like to play a superhero. Since you've already done that, what else is on your list?
It's still a superhero though, I want to play Batman. I've always wanted to play Batman, I'm a huge fan. The nice thing about Batman is chances are Bruce Wayne is never going to be someone my age. I mean, you could, but that's a tough story to tell.  So I figured I've got another 10 years before being the right age but playing Batman is a huge, huge goal of mine. But there's a lot of things, like the inner kid in me wants to play a Power Ranger, I want to be a superhero, just because I've played one doesn't mean I don't want to play another. But I've also had dream roles. Tomorrow People was a dream role – when I booked it I had so much fun doing it. I just want to do good movies with good people. I want to work with good directors, good actors. I just want to keep working and doing scripts that I enjoy, a little bit of everything. People like Chris Pratt have had such a great career where they've done really good work, even though it took a while to break out.  If you're doing the right work, people are going see it eventually.
Is there an actor or director you would really like to work with?
There are so many. I would really love to work with Michael Caine. I read his book, it's called Acting in Film and I love it.  It's really him just name-dropping for 180 pages but there's also some good information in there. It was a gift to me from one of my best friends after I wrapped my first movie. Who else I would like to work with? I'd love to work with Robert Downey Jr. and Tom Cruise. I'm a huge Tom Cruise fan.
You can definitely play a younger version of Tom Cruise.
Thank you. That would be so awesome! As for directors, I'm a huge Barry Sonnenfeld fan and I'm getting to work with him right now. The Men In Black movies are so awesome. Get Shorty, I grew up on that. Quentin Tarantino, I am huge, huge fan of his. My buddy Jeff and I are putting a project together. You know I love working with friends. I love his work, he got his start doing Call of Duty video games and live-action shorts on YouTube, so I'm going to be working with him soon, which is very cool.
If you could have any superpower in real life, what would it be?
I've thought about it a lot, I feel like teleporting would probably be the one. It's really more for convenience than anything else.
Lastly, what are your next projects?
I'm shooting Nine Lives right now.  I wrap in the middle of July, then I'm going back to The Flash for season 2. And my buddy Jeff and I are doing a teaser for a movie and I think we're going to release that to the public and we'll be doing something special with that.
That sounds exciting, thank you so much for chatting with us!
My pleasure and thank you!
~Marriska Fernandes
Max releases in theatres this Friday, June 26.