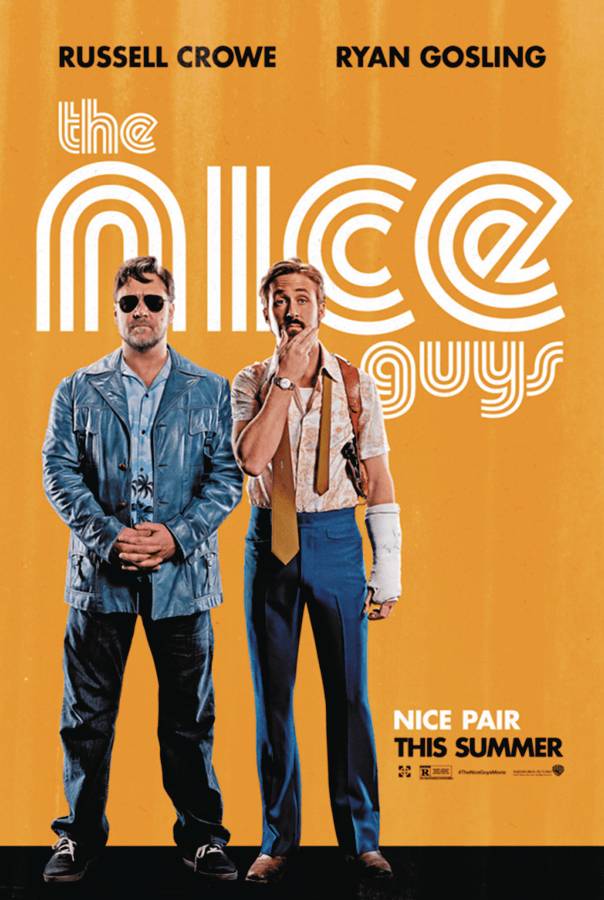 Tribute.ca users must have been feeling a little nostalgic this week, with the trailer for '70s era cop comedy The Nice Guys landing at the top as the most-watched of the week.
Box office champ and game app-turned-feature film The Angry Birds Movie and its third trailer flew onto the list at second, while Money Monster's trailer fell from first to third. The trailers for Neighbors 2: Sorority Rising and Captain America: Civil War complete this week's top five.~Shelby Morton
Check out all the top trailers below:
1.) The Nice Guys
2.) The Angry Birds Movie
3.) Money Monster
4.) Neighbors 2: Sorority Rising
5.) Captain America: Civil War
The Nice Guys- Holland March (Ryan Gosling) is a depressed, alcoholic, arguably suicidal, private detective. When a distressed woman claims to have seen her missing niece Amelia, Holland is hired to find her. Amelia, however, does not want to be found. She hires an "enforcer" named Jackson Healy (Russell Crowe) to ensure Holland leaves her alone. But when Jackson is attacked and warned about making deals with this mysterious Amelia, he smells something fishy and begins to believe she is part of a bigger plan. He recruits Holland to help track her down.
The Angry Birds Movie- On an island populated almost entirely by happy, flightless birds, Red (Jason Sudeikis), a bird with a temper problem, speedy Chuck (Josh Gad), and the volatile Bomb (Danny McBride) have always been outsiders. When the island is visited by green piggies who steal their eggs and carry them off to Piggy Island, it's up to these outcasts to save the day and show the pigs, including spokesman Leonard (Bill Hader), just how angry they can be.
Money Monster- TV personality Lee Gates (George Clooney) gives insider tips on air, aimed at everyday people, which has earned him a title as the money guru of Wall Street. A young man named Kyle (Jack O'Connell) watches the show and places all of his family's money on a tip from Gates. When the tip proves to be bad and the money is all lost, Kyle goes to the station and takes Lee and his entire show hostage on air. He threatens to kill Lee unless he gets the stock up 24 and a half points before the bell. The show's ratings soar as the entire country tunes in to watch the hostage situation unfold.
Neighbors 2: Sorority Rising- Mac (Seth Rogen) and Kelly (Rose Byrne) Radner still live in the house where they ran into so much trouble with a fraternity. Now expecting their second child, they're determined to sell the house and move on. They even have interested buyers — they just have to wait out a 30-day escrow. Everything goes as planned — until a newly established sorority, Kappa Nu, moves in next door. The girls, led by Shelby (Chloë Grace Moretz), and their hard partying ways are threatening the sale of the Radners' home. Desperate, Mac and Kelly turn to the one person who may be able to help — former neighbor and nemesis Teddy (Zac Efron).
Captain America: Civil War-  Tensions rise when global governments initiate an act to regulate all superhuman activity because of human casualties in the Avengers' previous missions. Iron Man/Tony Stark (Robert Downey Jr.) feels guilty and believes superheroes should register, while Captain America/Steve Rogers (Chris Evans) believes in the principles of freedom and has a clear mistrust of the government. The events put a strain on the friendship and eventually, The Avengers. Meanwhile, Steve meets up with an old friend, Bucky Barnes (Sebastian Stan), who's in trouble. He's been brainwashed to be an assassin and has no control of his actions. With Bucky in danger, Steve stands behind him, but not all the Avengers agree with this association.